EASING THE REFUSE WORKER'S LOT
25th June 1954
Page 48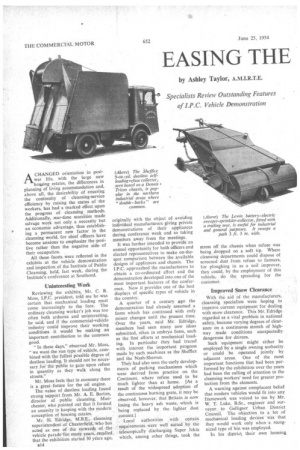 Page 49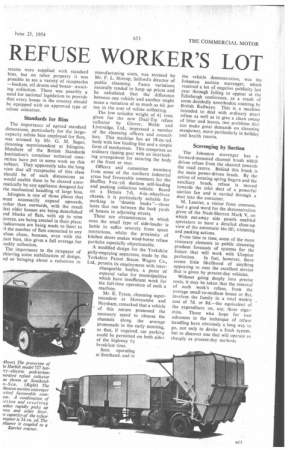 Page 48, 25th June 1954 —
EASING THE REFUSE WORKER'S LOT
Close
Keywords :
by Ashley Taylor, A.M.I.R.T.E.
ACHANGED orientation in postwar life, with the large new howing estates, the differences in planning of living accommodation and, above all, the desirability of ensuring the continuity of cleansing-service efficiency by raising the status of the workers, has had a marked effect upon the progress of cleansing methods. Additionally, war-time scarcities made salvage work not only a necessity but an economic advantage, thus establishing a permanent new factor in the cleansing world, for chief officers have become anxious to emphasize the positive rather than the negative side of their occupation.
All these facets were reflected in the exhibits at the vehicle demonstration and inspection of the Institute of Public Cleansing, held, last week, during the Institute's conference at Southend.
Uninteresting Work
Reviewing the exhibits, Mr. C. R. Moss, 1.P.C. president, told me he was certain 'that mechanical loading must come increasingly to the fore. The ordinary cleansing worker's job was too often both arduous and uninteresting, he said, and if the commercial-vehicle industry could improve their working conditions it would be making an important contribution to the common good.
" In these days," observed Mr. Moss, "we want the van type of vehicle, combined with the fullest possible degree of dustless loading. It should not be necessary for the public to gaze upon refuse in quantity as they walk along the streets."
Mr. Moss feels that in economy there is a great • future for the oil engine.
The value of dustless loading found strong support from Mr. A. E. Barton, director of public cleansing, Manchester, who pointed out that it formed an amenity in keeping with the modern conception of housing estates.
Mr. H. "Edridge, M.B.E., cleansing superintendent of Chesterfield, who has acted as one of the stewards of the vehicle parade for many years"reoalled. that the exhibition started 30 years ago, 914 originally with the object of avoiding individual manufacturers giving private demonstrations of their appliances during conference week and so taking members away from the meetings.
It was further intended to provide an annual opportunity for both officers and elected representatives to make on-thespot comparison between the available designs of appliances and chassis. The I.P.C. approached the manufacturers to obtain a co-ordinated effort and the demonstration developed into.one of the most important features of the conference. Now it provides one of the best displays of specific types of vehicle in the country.
A quarter of a century ago the demonstration had already assumed a form which has continued with only minor changes until the present time. Over the years, said Mr. Edridge, members had seen many new ideas submitted, often in embryo form, such as the first efforts at mechanical loading. in particular they had traced with interest the important progress made by such machines as the Sheinex and the Nash-Sherren.
Thdy had also seen the early developments of packing mechanisms which were derived from practice on the Continent, where refuse used to be much lighter than at home. [As a result of the widespread adoption of the continuous burning grate, it may be observed, however, that Britain is now losing the heavy ash waste,•which is being replaced by the lighter dust content.] Local authorities with certain requirements were well suited by the telescopically discharging Super Jekta which, among other things, took the stress off the chassis when refuse was being dropped on a soft tip. Where cleansing departments could dispose of screened dust from refuse to farmers, for ploughing in as a soil improver, they could, by the employment of this vehicle, do the spreading for the customer.
Improved Snow Clearance
With the aid of the manufacturers, cleansing specialists were hoping to improve current equipment for dealing with snow clearance. This Mr. Edridgc regarded as a vital problem in national safety, because varying degrees of clearance on a continuous stretch of highway made conditions unexpectedly dangerous for drivers.
Such equipment might either be employed by a single owning authority or could be operated jointly by adjacent areas. One of the most important functions that had been performed by the exhibition over the years had been the calling of attention to the cleansing workers' need for greater protection from the elements.
A warning against complacent belief that modern vehicles would fit into any framework was voiced to me by Mr. W. T. Luke, B.Sc., engineer and surveyor to Gelligaer Urban District Council. The objection to a lot of mechanical loading devices Was that they would work only when a recognized type of bin was employed.
In his district, their own housing estates were supplied with standard bins, but on other property it was possible to see a variety' of receptacles —buckets, oil drums and boxes—awaiting collection. There was possibly a need for national legislation to provide that every house in the country should be equipped with an approved type of refuse container.
Standards for Bins
The importance of agreed standard dimensions, particularly for the largecapacity refuse bins employed for flats, was stressed by Mr. G. M. Sagar, cleansing superintendent at Islington. Members of the British Standards Institution's container technical committee have put in some work on this subject. They apparently take thelong view that all receptacles of this class should be of such dimensions as would enable them to be cleared automatically by any appliance designed for the mechanical handling of large bins.
Islington is one of those places that must necessarily expand upwards, rather than outwards, with the result that older houses are being demolished Ind blocks of flats, with up to nine ttoreys, are being erected in their place. indeavours are being made to limit to 14 the number of flats connected to any efuse chute, because, even with the ;iant bins, this gives a full average for treekly collection.
The importance to the ratepayer of chieving some stabilization of design, nd so bringing about a reduction in
manufacturing costs, was stressed by Mr. F. L. Stirrup, Salford's director of public cleansing. Fancy variations naturally tended to keep up prices and he calculated that the difference between one vehicle and another might mean a variation of as much as 6d. per ton in the cost of refuse collecting.
The low unladen weight of 4} tons, given for the new Dual-Tip refuse collector by Glover, Webb and Liversidge, Ltd., impressed a number of the cleansing officers and councillors. This machine has an l8-cu.-yd. body with low loading line and a simple form of mechanism. This comprises an ordinary tipping gear with an interlocking arrangement for securing the body at the front or rear.
Officers and committee members from some of the northern industrial areas had favourable comment for the Sheffiex 9-cu.-yd. dustless self-loading and packing collection vehicle. Based on a Dennis 7-ft. 6-in.-wheelbase chassis, it is particularly suitable for working in "double backs "—those lanes that run between the back yards of houses in adjoining streets.
These are circumstances in which even the small type of side-loader is liable to suffer severely from space restrictions, whilst the proximity of kitchen doors makes wind-borne refuse particles especially objectionable.
A modified design for the Yorkshire gully-emptying apparatus, made by the Yorkshire Patent Steam Wagon Co., Ltd., permits its employment with interchangeable bodies, a point of especial value for municipalities which have insufficient work for the full-time operation of such a machine.
Mr. E. Tyson, cleansing superintendent at Morecambe and Heysham, remarked that a vehicle of this nature possessed the necessary speed to cleanse the channels along the average promenade in the early morning, so that, if required, car parking could be permitted on both sides of the highway by breakfast time. Seen operating at Southend. and in
the vehicle demonstration, was the Johnston suction scavenger, which received a lot of negative publicity last year through failing to appear at the Edinburgh conference, as a result of some decidedly unorthodox routeing by British Railways. This is a machine intended to . deal with ordinary street refuse as well as to give a clean sweep of litter and leaves, two problems that can make great demands on cleansing manpower, more particularly in holiday and health resorts.
Scavenging by Suction
The Johnston scavenger has a forward-mounted channel brush which drives refuse from the channel towards the road centre. Behind this brush is the main power-driven brush. By the action of rotating spring fingers and the auxiliary brush, refuse is moved towards the inlet duct of a powerful suction fan and is carried through a duct into the container.
M. Laurier, a visitor from overseas, had a good word for the demonstration given of the Nash-Sherrcn Mark V, on which cut-away side panels enabled spectators to have a detailed close-up view of the automatic bin lift, trimming and packing actions.
From time to time, some of the more visionary elements in public cleansing produce forecasts of systems for the future that will work with Utopian perfection. In fact, however, there seems little likelihood of anything appearing to oust the excellent service that is given by present-day vehicles.
Without going deeply into precise costs, it may be taken that the removal of each week's refuse, from the average small-to-medium house or flat, involves the family in a total weekly cost of 7d. or 8d.—the equivalent of the expenditure on, say, three cigarettes. Those who hope for vast advances in the technique of refuse handling have obviously a long way to go, not only to devise a fresh system. but to discover one that will operate as cheaply as present-day methods.