LABOUR PAMPHLET: REASON FOR WITHDRAWAL
25th June 1954
Page 43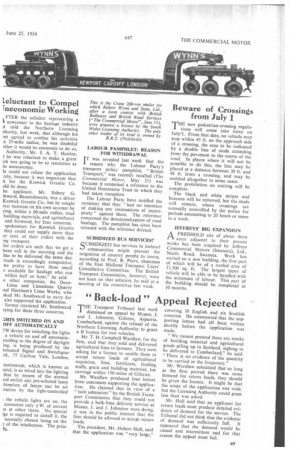 Page 43, 25th June 1954 —
LABOUR PAMPHLET: REASON FOR WITHDRAWAL
Close
IT was revealed last week that the 1 reason why the Labour Party's transport policy pamphlet, "British Transport," was recently recalled (The Commercial Motor, May 21) was because it contained a reference to the United Dominions Trust to which they had taken exception.
The Labour Party have notified the company that they "had no intention of making any insinuations of impropriety" against them. The reference concerned the denationalization of road haulage. The pamphlet has since been reissued with the reference deleted.
SUBSIDIZED BUS SERVICES?
SUBSIDIZED bus services in isolated communities might prevent the migration of country people to towns. according to Prof. R. Peers, chairman of the East Midland Transport Users' Consultative Committee. The British Transport Commission, however, were not keen on that solution, he said at a meeting of the committee last week.