.eluctant to Compel neconomic Working FTER the solicitor representing a
25th June 1954
Page 43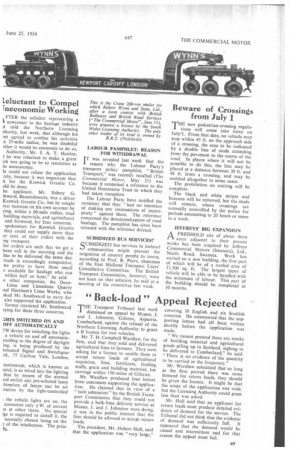 Page 43, 25th June 1954 —
.eluctant to Compel neconomic Working FTER the solicitor representing a
Close
newcomer to the haulage industry told the Northern Licensing thority, last week, that although his tnt agreed to confine his activities a 25-mile radius, he was doubtful ether it would be economic to do so, Authority, Mr. J. A. T. Hanlon, he was reluctant to make a grant ich was going to be so restrictive as be uneconomic.
le could not refuse the application rely, because it was important that k for the Keswick Granite Co. aid be done.
he applicant, Mr. Sidney G. thward, Bassenthwaite, was a driver Keswick Granite Co., but he sought alter business on his own account by ying, within a 60-mile radius, road building materials, and agricultural and firewood, for four concerns. spokesman for Keswick Granite they could not supply more than ■ er cent. of their orders with the ins transport.
)ur orders are such that we get a hone call in the morning and the has to be delivered the same day. trade is exceedingly competitive, we prefer to have these small e available for haulage who can within half an hour," he said. o other companies, the Dean Lime and Limestone Quarry aid Harrison's Lime Works, who skcd Mr. Southward to carry for also supported the application. licence restricted Mr. Southward rying for these three concerns.
.3HTS SWITCHED ON AND OFF AUTOMATICALLY EW device for switching the lights a vehicle on and off automaticcording to the degree of daylight ing, is being produced by the kctuated Signal and Switchgear td., 77 Carlton Vale, London, instrument, which is known as nitel, is so wired into the lighting that by means of the normal trd switch any pre-selected lamp bination of lamps can be set :ration by the light-controlled the vehicle lights are on, the consumes only -I W. of current le at other times. No special lge is required to install it, the normally chosen being on the of the windscreen. The price 58.