Beware of Crossings from July 1 THE new pedestrian-crossin g re g ula
25th June 1954
Page 43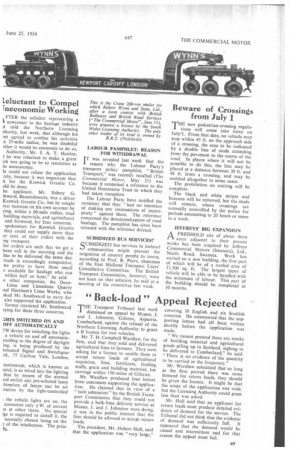 Page 43, 25th June 1954 —
Beware of Crossings from July 1 THE new pedestrian-crossin g re g ula
Close
tions will come into force on July'l. From that date, no vehicle may stop within 45 ft. on the approach side of a crossing, the area to be indicated by a double line of studs extending from the pavement to the centre of the road. In places where it will not be possible to do this, the line may be placed at a distance between 30 ft and 48 ft. from a crossing, and may be omitted altogether in some cases.
The prohibition on waiting will be complete.
The black and white stripes and beacons will be removed, but the studs will remain, where crossings are normally controlled by the police for periods amounting to 20 hours or more in a week.
JEFFREYS' BIG EXPANSION A FREEHOLD site of about three
acres adjacent to their present works has been acquired by Jeffreys Commercial Motors (Swansea), Ltd., Neath Road, Swansea. Work has started on a new building, the first part of which will be of a roofed area of 31,500 sq. ft. The largest types of vehicle will be able to be handled with the minimum of labour. This part of the building should be completed in 10 months.