" Back-load " A ppeal Rejected
25th June 1954
Page 43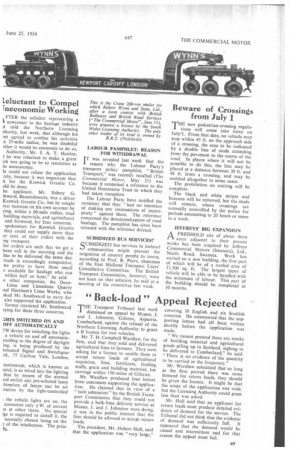 Page 43, 25th June 1954 —
" Back-load " A ppeal Rejected
Close
THE Transport Tribunal last week dismissed an appeal by Messrs. J. and J. Johnston, Giicrux, Aspatria, Cumberland, against the refusal of the Northern Licensing Authority to grant a B licence for two vehicles.
Mr. T. H. Campbell Wardlaw, for the firm, said that they sold and delivered agricultural lime to farmers. They were asking for a licence to enable them to accept return loads of agricultural requisites, lime, fertilizers, feeding stuffs, grain and building material, for carriage within 150 miles of Gilerux.
Mr. Wardlaw produced four letters from customers supporting the application. He claimed that in view of a "tacit admission" by the British Transport Commission that they could not provide a bulk-lime delivery service as Messrs. J. and J. Johnston were doing, it was in the public interest that the firm should be allowed to accept return loads_
The president, Mr. Hubert Hull, said that the application was "very large," covering 10 English and six Scottish counties. He commented that the supporting letters had all been written shortly before the application was made.
"We cannot pretend there are stocks of building material and agricultural goods piling up in Scotland, sighing to be delivered to Cumberland," he said. "There is no evidence of the quantity to be carried or the frequency."
Mr. Wardlaw submitted that so long as the firm proved there was some demand for return loads, they should be given the licence. It might be that the scope of the application was wide, but the Licensing Authority could grant less than was asked.
Mr. Hull said that an applicant for return loads must produce detailed evidence of demand for the service. The Tribunal did not think that the evidence of demand was sufficiently full. It appeared that the demand would be casual and intermittent and for that reason the appeal Must fail.