Bigger Newspapers— Bigger Van
25th June 1954
Page 41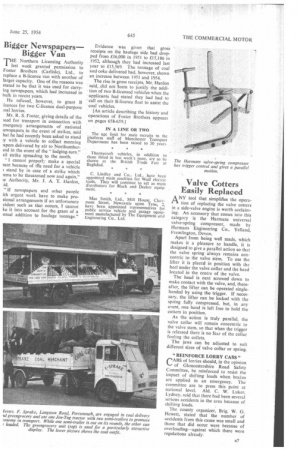 Page 41, 25th June 1954 —
Bigger Newspapers— Bigger Van
Close
THE Northern Licensing Authority I last week granted permission to =.oster Brothers (Carlisle), Ltd., to .eplace a B-licence van with another of arger capacity. One of the reasons was .tated to be that it was used for carryng newspapers, which had increased in Iulk in recent years.
He refused, however, to grant B icences for two C-licence dual-purpose ;oat lorries.
Mr. R. S. Foster, giving details of the Iced for transport in connection with ;mergency arrangements of national iewspapers in the event of strikes, said hat he had recently been asked to stand y with a vehicle to collect morning ,apers delivered by air to Northumbermd in the event of the " lodging-turn '.' iii strike spreading to the north.
I cannot properly make a special rant because of tfle need for a vehicle
stand by in case of a strike which :ems to be threatened now and again," ie Authority, Mr. J. A. T. Hanlon, Ad.
"If newspapers and other people ith urgent work have to make prosional arrangements if an unfortunate cident such as that occurs, I cannot ke it into account for the grant of a anal addition to haulage tonnage." Evidence was given that gross receipts on the haulage side had dropped from £16,000 in 1951 to £15,186 in 1952, although they had increased last year to £15,569. The tonnage of coal and coke delivered had, however, shown an increase between 1951 and 1954.
The rise in gross receipts, Mr. 1-lanlon said, did not %cern to justify the addition of two B-licensed vehicles when the applicants had stated they had had to -call on their B-licence fleet to assist the coal vehicles.
[An article describing the history and operations of Foster Brothers appears on pages 658-659.1 IN A LINE OR TWO
The age limit for male recruits to the -Platform staff of Manchester Transport Department has been raised to 50 years.
Thornycroft vehicles, in addition to those listed in last week's issue, are to be shown at the British Trade Fair at Baghdad.
C. Lindley and Co., Ltd., have been appointed main stockists for Wolf electric tools. They will continue to act as main distributors for Black and Decker equipment.
Mac Smith, Ltd., Mill House, Gatemont Street, Newcastle upon Tyne, 2, have been appointed representatives for public service vehicle and garage equipment manufactured by The Equipment and Engineering Co., Ltd.