When is a Conductor Not a Conductor ?
25th June 1954
Page 38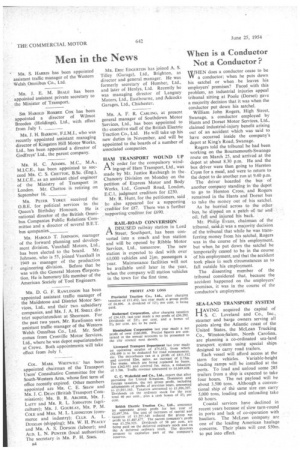 Page 38, 25th June 1954 —
When is a Conductor Not a Conductor ?
Close
WllEN does a conductor cease to be ce a conductor; when he puts down his satchel or when be leaves his employers' premises? Faced with this problem, an industrial injuries appeal tribunal sitting at Poole (Dorset) gave a majority decision that it was when the conductor put down his satchel.
William John Rogers, High Street, Swanage, a conductor employed by Hants and Dorset Motor Services, Ltd., claimed industrial-injury benefit arising out of an accident which was said to have occurred inside the company's depot at King's Road, Swanage.
Rogers told the tribunal he had been working on the Bournemouth-Swanage route on March 25, and arrived at the depot at about 8.30 p.m. He and the bus driver were then going to Herston Cross for a meal, and were to return to the depot to do another run at 9.40 p.m.
The driver boarded the bus of another company standing in the depot to go to Herston Cross, and Rogers remained in the Hants and Dorset bus to take the money out of his satchel.
As he hurried across to the other bus, he slipped on a patch of tar and oil, fell and injured his back.
Mr. Philip Evans, chairman of the tribunal, said it was a majority decision of the tribunal that while he was transferring money from his satchel, Rogers was in the course of his employment, but when he put down the satchel he temporarily ceased to be in the course of his employment, and that the accident took place in such circumstances as to fall outside his employment.
The dissenting member of the tribunal considered that, because the accident happened on the employers' premises, it was in the course of the conductor's employment.
SEA-LAND TRANSPORT SYSTEM UAVING acquired the capital of S. C. Loveland and Co., Inc., steamer and barge owners serving all points along the Atlantic coast of the United States, the McLean Trucking Co., Winston-Salem, North Carolina. are planning a co-ordinated sea-land transport system using special ships designed to carry road trailers.
Each vessel will afford access at the stern for vehicles. Variable-height loading ramps will be installed at the ports. To load and unload some 285 trailers from a ship is expected to take four hours. The net payload will be about 3,500 tons. Although a conventional ship of the same size can carry 5,000 tons, loading and unloading take 60 hours.
Coastal services have declined in recent years because of slow turn-round in ports and lack of co-operation with hauliers. The McLean company arc one of the leading American haulage concerns. Their plans will cost $50m. to put into effect.