T.A.T. Refuse to State Case
25th June 1954
Page 37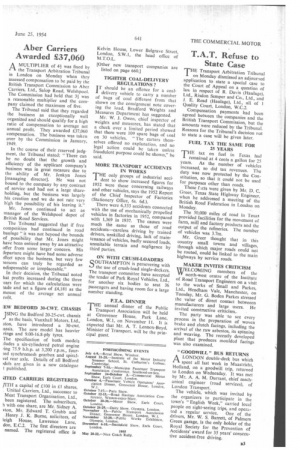 Page 37, 25th June 1954 —
T.A.T. Refuse to State Case
Close
THE Transport Arbitration Tribunal on Monday dismissed an adjourned application to state a special case to the Court of Appeal on a question of law in respect of R. Davis (Haulage), Ltd., Risdon Salyer and Co., Ltd., and I. E. Read (Haulage), Ltd., all of 1 Quality Court, London, W.C.2.
Compensation payments had been agreed between the companies and the British Transport Commission, but the amounts were reduced by the Tribunal, Reasons for the Tribunal's decision not to state a case will be given later.
FUEL TAX THE SAME FOR 25 YEARS
THE tax on fuel in Texas had remained at 4 cents a gallon for 25 years. As the number of vehicles increased, so did tax revenues. The duty was now protected by the Constitution, so that it could not be used for purposes other than roads.
These f lets were given by Mr. D. C. Greer, Texas State Highway Engineer, when he addressed a meeting of the British Road Federation in London on Monday.
The 50,000 miles of road in Texas provided facilities for the movement of farm, mill and factory products and the output of the refineries. The number of vehicles was 3.7m.
Mr. Greer thought that in this country small towns and villages, through which major roads could not be routed, could be linked to the main highways by service roads.
MAKER INVITES CRITICISM WELCOIVIING members of the IT north-west centre of the Institute of Road Transport Engineers on a visit to the works of Small and Parkes, Ltd., Hendham Vale, Manchester, on Tuesday, Mr. G. Roden Parkes stressed the value of direct contact betweeen manufacturers and large users. He invited constructive criticism..
The party was able to see every process in the preparation of woven brake and clutch facings, including the arrival of the raw asbestos, its spinning and weaving. The recently developed plant that produces moulded facings was also examined. "
GOODWILL" BUS RETURNS A LONDON double-deck bus which
spent all last week in Maastricht, Holland, on a goodwill trip, returned to London on Wednesday. It was met by Mr. A. A. M. Durrant, chief mechanical engineer (road services). of London Transport.
The vehicle, which was invited by the organizers to participate in the town's "English Week," carried local people on sight-seeing trips, and opera ted a regular service. One of the drivers, Mr. W. S. Barrett, of Palmers Green garage, is the only holder of the Royal Society for the Prevention of Accidents' award for 35 years' consecutive accident-free driving.