Many More Transport Units Sold
25th June 1954
Page 36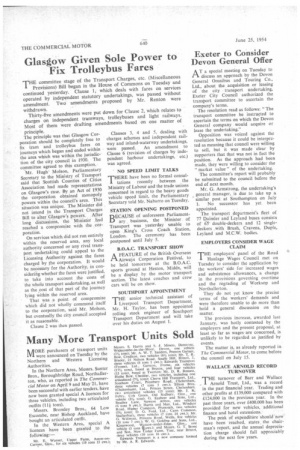 Page 36, 25th June 1954 —
Many More Transport Units Sold
Close
UORE purchasers of transport units Lvi were announced on Tuesday by the Northern and Western Licensing Authorities.
In the Northern Area, Messrs. &inter Bros., Boroughbridge Road, Northallerton, who, as reported in The Commercial Motor on April 9 and May 21, have been successful with earlier tenders, have now been granted special A licences for three vehicles, including two articulated outfits (1If tons).
Messrs. Bromley Bros., 64 Low Escombe, near Bishop Auckland, have bought an articulated outfit.
In the Western Area, special A licences have been granted to the following:—
Mr. E. Warner, Upper Farm, Aston-onCarrant, Glos., for six vehicles (19 tons 13 cwt.);
Messrs. S. Harris and S. J. Miners, Dunstone, Widccombe-in-the-Moor, Devon. one vehicle (31,42 tons); Mr. A. W. T. Sanders, Preston Garage, Bow. Crediton, two vehicles (61,4 tons); Mr. T. R. Bracey, 21 Nelson Road. Staple Hill, Bristol. 3, three vehicles (8 tons 1 cwt.); Edwards Transport (Frome). Ltd., Garston, Frame, six vehicles (1714 tons), based at Bruton, and four vehicles (13 tons), based at Twenon; Mr. D. R. Russett. Hythe Bow, Cheddar, two vehicles, including one articulated (7% tons); aeeve Hill Transport, Ltd., Southern Court, Prestbury Road, Cheltenham. three vehicles (7 tons 3 cwt.); Elliott Bros. (Cheltenham), Ltd., Princes Street, Cheltenham. two articulated vehicles (15 tons); Mr. 3. K. Febry. Colt Green. Old Sodbury. Glos.. one vehicle (Yri tons); G. Eggbeer and Sons. Ltd.. Bradley Lane, Newton Abbot, two vehicles (6 tons 9 cwt.); Harris and May, Ltd., Windsor Road, Higher Compton, Plymouth, two vehicles (53,(, tons); D. G. Ford, Ltd., Cann ConlinOn, Shaftesbury, three vehicles (7 tons 14 cwt.); Mr. G. Willrnott. Princess Road, Wells, five vehicles (18 torn; 7 cwt.); W. G. Golding and Sons, Ltd.. Kingwood, 1:n-under-Edge, Glos., one vehicle (3 tons cwt.); and Messrs. G. T. Stone
and Son, New ge Farm. Yam, near Bristol, three vehides (10 tons 16 cwt.).
Edwards Transport 1s a new company formed by Mr. A. 35. Edwards.