Glasgow Given Sole Power to Fix Trolleybus Fares
25th June 1954
Page 36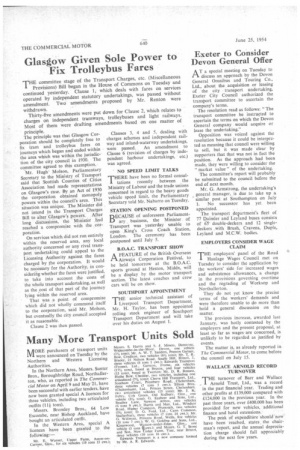 Page 36, 25th June 1954 —
Glasgow Given Sole Power to Fix Trolleybus Fares
Close
THE committee stage of the Transport Charges, etc. (Miscellaneous Provisions) Bill began in the House of Commons on Tuesday and
continued yesterday. Clause 1; which deals with fares on services operated by independent statutory undertakings, was passed without amendment. Two amendments proposed by Mr. Renton were withdrawn.
Thirty-five amendments were put down for Clause 2, which relates to charges on independent tramways, trolleybuses and light railways. Most of them were drafting amendments based on one matter of principle. The principle was that Glasgow Corporation should be completely free to fix tram and trolleybus fares on journeys which began and ended within the area which was within the jurisdiction of the city council in 1930. The committee agreed to this exemption.
-Mr. Hugh Molson, Parliamentary Secretary to the Ministry of Transport said that Scottish Counties of .Cities Association had made representations on Glasgow's case. By an Act of 1930 the corporation obtained monopoly powers within the council's area. This situation was unique. The Minister did not intend in the Transport Charges Bill to alter Glasgow's powers. After long discussions, the Minister had reached a compromise with the corporation.
On services which did not run entirely within the reserved area, any local authority concerned or any rival transport Undertaking could appeal to the Licensing Authority against the fares charged by the corporation. It would be necessary for the Authority, in consideriiig whether the fares were justified, to take into account the costs of the whole transport undertaking, as well as the post of that part of the journey lying within the reserved area.
That was a point of compromise which did not wholly commend itself to the corporation, said Mr. Molson, but eventually the city council accepted it as reasonable.
Clause 2 was then passed. Clauses 3, 4 and 5, dealing with charges schemes and independent railway and inland-waterway undertakings, were passed. An amendment to Clause 6 (revision of charges by independent harbour undertakings, etc.) was agreed.
NO SPEED LIMIT TALKS
TTHERE have been no formal consultations recently between the Ministry of Labour and the trade unions concerned in regard to the heavy goods vehicle speed limit, the Parliamentary Secretary told Mr. Nabarro on Tuesday.
STATION OPENING POSTPONED
BECAUSE of unforeseen Parliamentary business, the Minister, of Transport was yesterday unable to open King's Cross Coach Station, London. The ceremony has been postponed until July 5.
B.O.A.C. TRANSPORT SHOW
AFEATURE of the British Overseas Airways Corporation Festival, to be held tomorrow at the B.O.A.C. sports ground at Heston, Middx, will be a display by the motor transport section. The latest coaches and crew cars will be on show.
SOUTHPORT APPOINTMENT THE senior technical assistant of
Liverpool Transport Department, Mr. H.. Taylor, has been appointed rolling stock engineer of Southport Transport Department and will take over his duties on August 1.