Exeter to Consider Devon General Offer
25th June 1954
Page 36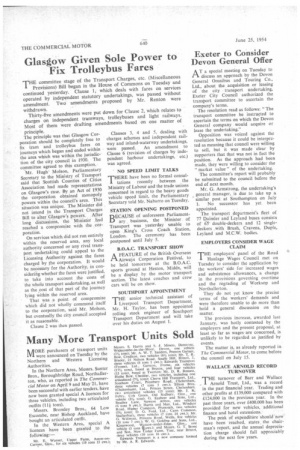 Page 36, 25th June 1954 —
Exeter to Consider Devon General Offer
Close
AT a special meeting on Tuesday to discuss an approach by the Devon General Omnibus and Touring Co., Ltd., about the acquisition or leasing of the city transport undertaking, Exeter City Council authorized the transport committee to ascertain the company's terms.
The resolution read as follows: "The transport committee be instructed to ascertain the terms on which the Devon General company would acquire or lease the undertaking."
Opposition was voiced against the resolution because it could be interpreted as meaning that council were willing to sell, but it was made clear by supporters that that was not in fact the position. As the approach had been made, they were willing to consider the "market value" of the undertaking.
The committee's report will probably be submitted to the council before the end of next month.
Mr. G. Armstrong, the undertaking's general manager, is due to take up a similar post at Southampton on July 1. No successor has yet been appointed.
The transport department's fleet of 77 Daimler and Leyland buses consists of 0 double-deckers and 12 singledeckers .with Brush, Cravens, Duple, Leyland and M.C.W. bodies.
EMPLOYERS CONSIDER WAGE CLAIM
THE employers' panel of the Road Haulage Wages Council met on Tuesday to consider the application by the workers' side for increased wages and subsistence allowances, a change in the provisions governing overtime and the regrading of Worksop and Northal le rton.
They do not yet know the precise terms of the workers' demands and were therefore unable to do more than hold a general discussion on the matter.
The previous increase, awarded last. January, was hotly contested by the employers and the present proposal, at least so far as wages are concerned, is unlikely to be regarded as justified by events.
The matter is, as already reported in The Commercial Motor, to come before the council on July 15.
WALLACE ARNOLD RECORD TURNOVER
THE turnover of Barr and Wallace Arnold Trust, Ltd., was a record in the past financial year. Trading and other profits at £139,000 compared with £124.000 in the previous year. In the past three years, over £400,000 has been provided for new vehicles, additional finance and hotel extensions.
The peak of expenditure 'should 'now have been reached, states, the chairman's report, and the annual depreciation charge should fall appreciably during the next few years.