One Hears
25th June 1954
Page 35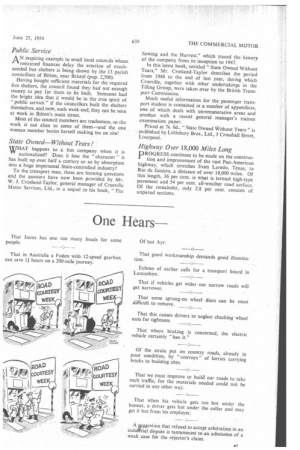 Page 35, 25th June 1954 —
One Hears
Close
That Janus has one too many heads for some.
people. _ That in Australia a Foden with 12-speed gearbox can save 11 hours on a 200-mile journey, Of hot Ayr.
That good workmanship demands good illumina tion. — Echoes of earlier calls for a transport board in Lancashire.
That if vehicles get wider our narrow roads will get narrower.
That some sprung-on wheel discs can be most difficult to remove.
That this causes drivers to neglect checking wheel nuts for tightness.
That where braking is concerned, the electric vehicle certainly "has it."
Of the strain put on country roads, already in poor condition, by " convoys " of lorries carrying bricks to building sites.
That we must improve or build our roads to take such traffic, for the materials needed could not be carried in any other way.
That when his vehicle gets too hot under the bonnet, a driver gets hot under the collar and may get it hot from his employer.
A wiggestion that refusal to accept arbitration in an induffrial dispute is tantamount to an admission of a weak case for the rejector's claim.