Passing Comments
25th June 1954
Page 34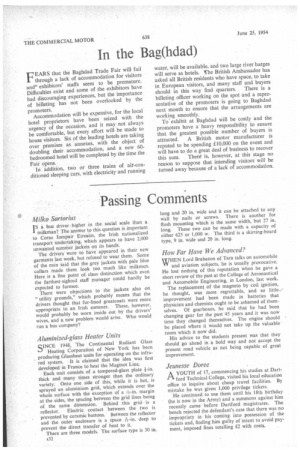 Page 35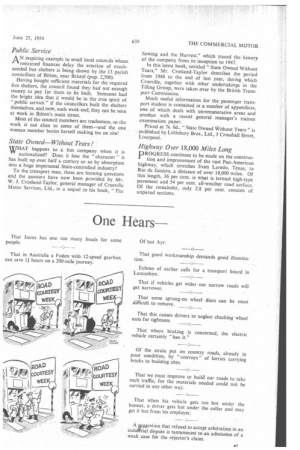 Page 34, 25th June 1954 —
Passing Comments
Close
Milko Sartorius
IS a bus driver higher in the social scale than a I milkman? The answer to this question is important to Coras Iompair Eireann, the Irish nationalized transport undertaking, which appears to have 2,000 unwanted summer jackets on its hands.
The drivers were to have appeared in their new garments last week, but refused to wear them. Some of the men said that the grey jackets with pale blue collars made them look too much like milkmen. Here is a fine point of class distinction which even the farthest-sighted staff manager could hardly be expected to foresee.
There were objections to the jackets also on "utility grounds," which probably means that the drivers thought that fur-lined greatcoats were more appropriate to an Irish summer. These, however, would probably be worn inside out by the drivers' wives, and a new problem would arise. Who would run a bus company?
Aluminized-glass Heater Units
SINCE 1948, The Continental Radiant Glass Heating Corporation of New York has been producing Glassheat units for operating on the infrared system. It is claimed that the idea was first developed in France to heat the Maginot Line, Each unit consists of a tempered-glass plate 1-in. thick and -many times stronger than the ordinary variety. Onto one side of this, while it is hot, is sprayed an aluminium grid, which extends over the whole surface with the exception of a -116--in. margin at the sides, the spacing between the grid lines being of the same dimension. Behind this grid • is a reflector. Electric contact between the two is prevented by ceramic buttons. Between the reflector
and the outer enclosure is a space deep to prevent the direct transfer of heat to it.
There are three models. The surface type is 30 in. A32
long and 20 in, wide and it can be attached to any. wall by nails or screws. There is another for flush mounting which is the same width, but 27 in. long. These two can be made with a capacity of either 625 or 1,000 w. The third is a skirting-board type, 9 in. wide and 20 in. long.
How Far Have We Advanced?
WHEN Lord Brabazon of Tara talks on automobile " and aviation subjects, he is usually provocative. He lost nothing of this reputation when he gave a short review of the past at the College of Aeronautical and Automobile Engineering, in London, last week.
The replacement of the magneto by coil ignition, he thought, was most regrettable, and so little-improvement had been made in batteries that physicists and chemists ought to be ashamed of themselves. Of gearboxes, he said that he had been changing gear for the past 45 years and it was now time they changed themselves. The engine should be placed where it would not take up the valuable room which it now did.
His advice to the students present was that they should go ahead in a bold way and not accept the present road vehicle as not being capable of great improvement.
Jeunesse Doree
A YOUTH of 17, commencing his studies at Dartr-1. ford Technical College, visited his local education office to inquire about cheap travel facilities. By mistake he was given 1,000 privilege tickets.
He continued to use them until his 18th birthday (he is now in the Army) and a summons against him recently came before Dartford magistrates. The bench rejected the defendant's case that there was no impropriety in his coming into possession of the tickets and, finding him guilty of intent to avoid payment, imposed fines totalling £2 with costs.
Public Service
A N inspiring example to small local councils 'whose "restricted finances delay the erection of muchneeded bus shelters is being shown by the 13 parish councillors of Bitton, near Bristol (pop. 2,500).
Having bought sufficient materials for the required five shelters, the council found they had not enough money to pay for them to be built. Someone had the bright idea that it would be in the true spirit of "public service" if the ebuncillors built the shelters themselves, and now, each week-end, they can be seen at work in Bitton's main street.
Most of the council members are tradesmen, so the work is not alien to some of them—and the one woman member busies herself making tea on site!
State Owned—Without Tears!
'WHAT happens to a bus company when it is " nationalized? Does it lose the "character it has built up over half a century or so by absorption into a huge impersonal State-controlled industry?
To the transport man, these are burning questions and the answers have now been provided by Mr. W. J. Crosland-Taylor, general manager of Crosville Motor Services, Ltd., in a sequel to his book, "The Sowing and the Harvest," which traced the history of the company from its inception to 1947.
In this latest book, entitled "State Owned Without Tears," Mr. Crosland-Taylor describes the period from 1948 to the end of last year, during which Crosville, together with other undertakings in the Tilling Group,, were taken over by the British Transport Commission.
Much useful information for the passenger transport student is contained in a number of appendices, one of which deals with unremunerative areas and another with a recent general manager's trainee examination paper.
Priced at 7s. 6d., "State Owned Without Tears" is published by Littlebury Bros., Ltd., 3 Crosshall Street, Liverpool.
Highway Over -18,000 Miles Long
PROGRESS continues to be made on the construction and improvement of the vast Pan-American highway, which stretches from Laredo, Texas, to Rio de Janeiro, a distance of over 18,000 miles. Of this length, 36 per cent, is what is termed high-type pavement and 54 per cent. all-weather road surface. Of the remainder, only 2.8 per cent. consists of unpaved sections.