Increase the "Differential"
25th June 1954
Page 33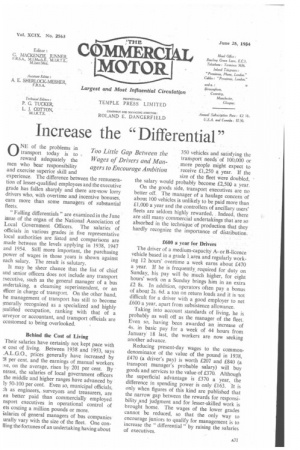 Page 33, 25th June 1954 —
Increase the "Differential"
Close
0 NE of the problems in transport today is to reward adequately the men who bear responsibility and exercise superior skill and experience. The difference between the remuneration of lesser-qualified employees and the executive • grade has fallen sharply and there are .now lorry drivers who, with overtime and incentive bonuses, earn more than some managers of substantial fleets.
"Falling differentials" are examined in the June issue of the organ of the National Association of Local Government Officers. The salaries of officials in various grades in five representative local authorities are listed and comparisons are made between the levels applying in 1938, 1947 and 1954. Still more important, the purchasing power of wages in those years is shown against each salary. The result is salutary.
It may be sheer chance that the list of chief and senior officers does not include any transport .xeeutive, such as the general manager of a bus indertaking, a cleansing superintendent, or an ifficer in charge of transport. On the other hand, he management of transport has still to become ;enerally recognized as a specialized and highly tualified occupation, ranking with that of a urveyor or accountant, and transport officials are ccustomed to being overlooked.
Behind the Cost of Living Their salaries have certainly not kept pace with te cost of living. Between 1938 and 1953, says .A.L.G.O., prices generally have increased by per cent. and the earnings of manual workers ive, on the average, risen by 201 per cent. By ntrast, the salaries of local government officers the middle and higher ranges have advanced by ly 50-100 per cent. Even so, municipal officials, :h as engineers, surveyors and treasurers, are en better paid than commercially employed nsport executives in operational control of ets costing a million pounds or more.
;alaries of general managers of bus companies urally vary with the size of the fleet. One conlling the fortunes of an undertaking having about 350 vehicles and satisfying the transport needs' of 100,000 or more people might expect to receive £1,250 a year. If the size of the fleet were doubled, the salary would probably become £2,500 a year.
On the goods side, transport executives are no better off. The manager of a haulage concern of about 100 vehicles is unlikely to be paid more than £1,000 a year and the controllers of ancillary users' fleets are seldom highly rewarded. . Indeed, there are still many commercial undertakings that are so absorbed in the technique of production that they hardly recognize the importance of distribution.
£600 a year for Drivers The driver of a medium-capacity Aor B-licence vehicle based in a grade -1.area and regularly working 12 hours' overtime a week earns about £470 a year. If he is frequently required for duty on Sunday, his pay will be much higher, for eight hours' work on a Sunday brings him in an extra £2 8s. In addition, operators often pay a bonus of about 2s. 6d. a ton on return loads and it is not difficult for a driver with a good employer to net £600 a year, apart from subsistence allowance.
Taking into account standards of living, he is probably as well off as the manager of the fleet. Even so, having been awarded an increase of 4s. in basic pay for a week of 44 hours from January" 18 last, the workers are now seeking another advance.
Reducing present-day wages to the commondenominator of the value of the pound in 1938, £470 (a driver's pay) is worth £207 and £840 (a transport manager's probable salary) will buy goods and services to the value of £370. Although the superficial advantage is £370 a year, the difference in spending power is only £163. It is only when figures of this kind are published that the narrow gap between the rewards for responsibility ,and judgment and for lesser-skilled work is brought home. The wages of the lower grades cannot be reduced, so that the only way to encourage juniors to qualify for management is to increase the differential " by raising the salaries of executives.