Mechanical
25th June 1948
Page 31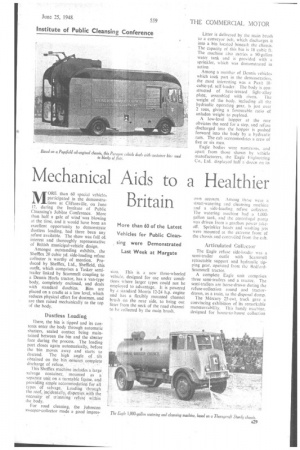 Page 31, 25th June 1948 —
Mechanical
Close
MORE than 60 special vehicles participated in the demonstrations at Cliftonville, on June 17, during the Institute of Public Cleansing's Jubilee Conference. More than half a gale of wind was blowing at the time, and it would have been an excellent opportunity to demonstrate dustless loading, had there been any refuse available. The show was full of, interest and thoroughly representative of British municipal-vehicle design.
Amongst outstanding exhibits, the Shefflex 20 cubic yd. side-loading refuse collector is worthy of mention. Produced by Shefflex, Ltd., Sheffield, this outfit, which comprises a Tasker semitrailer linked by Scammell coupling to a Dennis Horla tractor, has a van-type body, completely enclosed, and deals with standard dustbins. Bins are placed on a cradle at a low level, which reduces physical effort for dustmen, and are then raised mechanically to the top -A the body.
Dustless Loading
There, the bin is tipped and its contents enter the body through automatic shutters, sealed contact being maintained between the bin and the shutter face during the process. The loading port closes again automatically, before the bin moves away and starts to descend. The high angle of tilt obtained on the bin ensures complete discharge of refuse. .
-I his Sheffiex machine includes a large salvage container, mounted as is separate unit on a turntable frame, and providing ample accommodation for all types of salvage. Loading 'through the roof, incidentally, dispenses with the necessity of trimming refuse within the body.
For road cleaning, the Johnston sweeper-collector made a good impres