WITH earth-moving and allied equipVV ment, travel from site to
25th June 1948
Page 30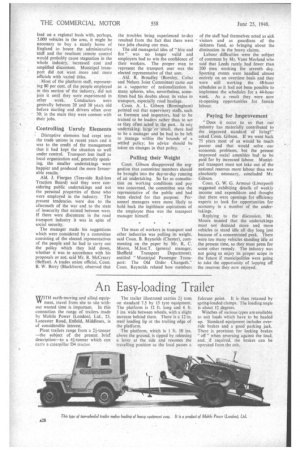 Page 30, 25th June 1948 —
WITH earth-moving and allied equipVV ment, travel from site to
Close
site without wasted time is important. In this connection the range of trailers, made by Mobile Power (London), Ltd., 23, Lancaster Road, Enfield, Middlesex, is of considerable interest.
Plant trailers range from a 21-tonner —the subject of the present brief description—to a 41-tormer which can carry a caterpillar 1)4 tractor. The trailer illustrated carries 21 tons on standard 7.5 by 15 tyre equipment. The platform is 12 ft. long and 6 ft. 3 ins, wide between wheels, with a slight increase behind them. There is a 12-in. steel loading lip at the trailing edge of the platform.
The platform, which is 1 ft. 10 ins. above the ground, is tipped by releasing a lever at the side and resumes the travelling position as the load passes a fulcrum point. It is then retained by spring-loaded clamps. The loading angle is about 12 degrees.
Winches of various types are available to suit loads which have to be hauled up. Standard equipment includes override brakes and a good parking jack. There is provision for locking brakes " off " when reversing against the load, and, ,if required, the brakes can be operated from the cab.