In a Line or Two
25th June 1948
Page 25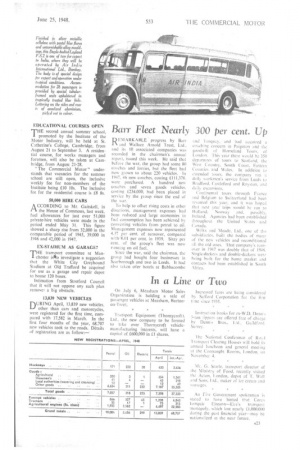 Page 26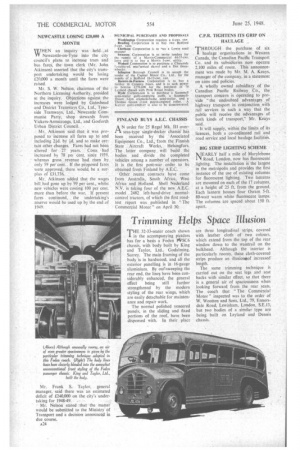 Page 27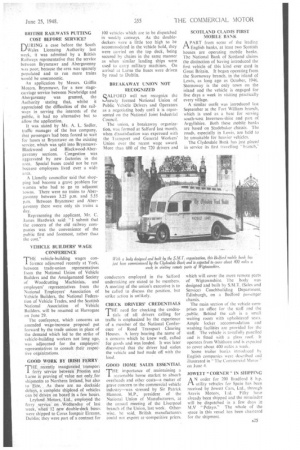 Page 25, 25th June 1948 —
In a Line or Two
Close
On July 6, Measharn Motor Sales Organization is holding a sale of passenger vehicles-at Measham, Burtonon-Trent, Transport Equipment (Thornyeroft), Ltd., the new company to be formed to take over Thornycroft vehiclemanufacturing interests, will have a capital of £600,000 in if shares.
Increased fares are being considered by Salford Corporation for the first time since 1933.
Instruction books for ex-W.D. Dennis 3-ton tippers are offered free of charge by Dennis Bros., Ltd., Guildford_ Surrey.
1 he National Conference of Road Transport Clearing Houses will hold its annual luncheon and general meetine it the Connaught Rooms, London, on November 4.
N1r. G. Searle. transport director of the Ministry of Food, recently visited the Acton. London, depot of 'I". Wail and Sons, ltd., maker of ice cream and tisa ges.
An Fire Government spokesman is stated to have hinted that Coma lompair Eireann—Eire's transport monopoly, '4,' hich lost nearly £1,000.000 during the past financial year—may be nationalized in the near future. WHEN an inquiry was held at VV Newcastle-on-Tyne into the city council's plans to increase tram and bus fares, the town clerk (Mr. John Atkinson) asserted that the city's transport undertaking would be losing £20,000 a month until the fares were raised.
Mr. S. W. Nelson, chairman of the Northern Licensing Authority, presided at the inquiry. Objections against the increases were lodged by Gateshead and District Tramways Co., Ltd., Tyneside Tramways, Ltd., Newcastle Communist Party, shop stewards from Vickers-Armstrongs, Ltd., and Gosforth Urban District Council.
Mr. Atkinson said that it was .proposed to increase all fares up to and including 2id. by id. and to make certain other changes. Fares had not been altered for 27 years. Costs • had increased by 78 pet cent. since 1939. whereas gross revenue had risen by only 59 per' cent. If the proposed fares were approved, there would, be a surplus of £31,736.
Mr. Atkinson added that the wages bill had gone up by 99 per cent., whilst new vehicles were costing 100 per cent. more than before the war. If present fares continued, the undertaking's reserve would be used up by the end of 1949.
FINLAND BUYS A.E.C. CHASSIS
PAA N order for 25 Regal Mk. III overseas-type single-decker chassis' has been received by the Associated Equipment Co., Ltd., from the Finnish State Aircraft Works, lielsingfors. The latter company will build the bodies and divide the completed vehicles among a number of operators. It is the first post-war order to be obtained from Finland by A.E.C.
Other recent contracts have come from Australia, South Africa, West Africa and Holland. Shell Nederland N.V. is taking four of the new A.E.C. model 2482 left-hand-drive normalcontrol tractors, of which the first roadtest report was published in " The Commercial Motor" on April 30.
C.P.R. TIGHTENS ITS GRIP ON HAULAGE ,,
THROUGH the purchase of six 1 haulage organizations in Western Canada, the Canadian Pacific Transport Co. and its subsidiaries now operate 2,100 miles of route. This announcement was made by Mr. M. A. Keays, manager of the company, in a statement on aims and policies.
A wholly owned subsidiary of the Canadian Pacific Railway Co., the transport concern is operating to provide "the undoubted advantages of highway transport in conjunction with rail services in such a way that the public will receive the advantages of both kinds of transport," Mr. Keays said.
It will supply, within the limits of its licences, both a co-ordinated rail and road service and local haulage facilitiis.
BIG STRIP LIGHTING SCHEME
NEARLY half a mile of Marylebone Road, London, now has fluorescent lightihg. The installation is the largest in the metropolis and provides the first instance of the use of existing columns for fluorescent lighting. Two lanterns are mounted on each of the 17 columns, at a height of 25 ft. from the ground. Each lantern houses four Osram 5-ft. 80-watt warm white fluorescent lamps. The columns are spaced about 150 ft. apart. BRITISH RAILWAYS PUTTING COST BEFORE SERVICE? DURING a case before the South Wales Licensing Authority last week, it was admitted by a British Railways representative that the service between Brynmawr and Abergavenny was poor, because the area was sparsely populated and to run more trains would be uneconomic.
An application by Messrs. Griffin Motors, Brynmawr, for a mew stagecarriage service between Newbridge and Abergavenny was granted, the Authority stating that, whilst it appreciated the difficulties of the railways in serving the interests of the public, it had no alternative but to allow the application.
It was stated by Mr. A. L. Sadler, traffic manager of the bus company, that passengers had been forced to wait for hours at Brynmawr on the existing service, which was split into BrynmawrBlackwood and Blackwood-Abergavenny sections. Congestion was aggravated by new factories in the area. Special buses could not be run because employees lived over a wide area.
A Llanelly councillor said that shopping had become a grave problem for women who had to go to 'adjacent towns. There were no trains to Abergavenny between 3.25 p.m. and 5.55 pro. Between Brynmawr and Abergavenny there were only six trains a day.
Representing the applicant, Mr. C. James Hardwick said: "I submit that the concern of the old railway companies was the convenience of the public first and foremost, rather than the cost."
VEHICLE BUILDERS' WAGE -CONFERENCE THE vehicle-building wages conT ference adjourned recently at York,
between trade-union representatives from the National Union of Vehicle Builders and the Amalgamated Society of Woodcutting Machinists, and employers'. representatives from the National Employers' Association of Vehicle Builders, the National Federation of Vehicle Trades, and the Scottish National Association of Vehicle. Builders, will be resumed at 1-Tarrogate on June 29.
The conference, which concerns an amended wage-increase proposal put forward by the trade unions in place of the demand which led to the strike of vehicle-building workers not long ago, was adjourned for the employers' representatives to consult their respective organizations.
GOOD WORK BY IRISH FERRY
THE. recently inaugurated transport ferry service between Preston and Larne is proving of value not only for shipments to Northern Ireland, but also to' Eire, . As there are no dockside delays, a complete shipload of vehicles can be driven on board in a few hotirs.
Leyland .Motors,. Ltd., employed the ferry . service.' on -Wednesday . of last week,'wheti 12 new double-deck buses were shipped to Coras Iompair Eireann, Dublin; they were part of a contract for 100 vehicles which are to be dispatched in weekly convoys. As the doubledeckers were a little too high to be accommodated in the vehicle hold, they were carried on the top deck, being secured by chains in the same manner as when similar landing ships were used to carry military machines. On arrival at Larne the buses were driven by road to Dublin, BREAKAWAY UNION NOT RECOGNIZED
SALFORD will not recognize the newly formed National Union of Public Vehicle Drivers and Operators as a negotiating body until it is represented on the National Joint Industrial Council.
The union, a ,breakaway organization, was formed at Salford last -month, when dissatisfaction was expressed with the Transport and General Workers' Union over the recent wage award. More than 600 of the 720 drivers and conductors employed in the Salford undertaking are stated to be members. A meeting of the union's executive is to be called to discuss the position, but strike action is unlikely.
CHECK DRIVERS' CREDENTIALS
THE need for checking the credentials of all drivers calling for traffic is emphasized by the experience of a member of the National Conference of Road Transport Clearing Houses, A lorry bearing the name of a concern which he knew well, called for goods and was loaded. It was later discovered that the driver had stolen the vehicle and had made off with" the load.
GOOD HOME SALES ESSENTIAL THE importance of, maintaining a reasonable home market to absorb overheads and other costs—a matter of grave concern to the commercial vehicle industry—was stressed by Sir Patrick ,Hannon, M.P., president of the National Union of Manufacturers, at the annual Meeting Of the Liverpool branch of the Union, last week. Otherwise. he said, British manufacturers &mid not exportat 'competitive prices. SCOTLAND CLAIMS FIRST MOBILE BANK
APART from some of the leading English banks, at least two Scottish houses are operating mobile banks. The National Bank of Scotland claims the distinction of having introduced the first vehicle of this kind ever used in Great Britain. It began operating from the Stornoway branch, in the island of Lewis, as long ago as October, 1946. Stornoway is the only town on the island and the vehicle is engaged for five days a week in visiting practically every village.
A similar outfit was introduced last September at the Fort William branch, which is used as a base for serving south-west Inverness-shire and part of Argyllshire. Both these mobile banks are based on Studebaker chassis. The roads, especially in Lewis, are held to be unsuitable for heavier vehicles.
The Clydesdale Bank has just placed in service its first travelling branch," which will cover the more remote parts of Wigtownshire. 'Ilse body was designed and built by S.M.T. (Sales and Service) Coach bu ild i ng Department. Edinburgh, on a Bedford passenger chassis.
The main section of the vehicle comprises an 'office for the staff and the . public. Behind the cab is a small waiting room with upholstered seats. Ample -locker accommodation and washing facilities arc provided for the staff. The vehicle is tastefully panelled and is fitted with a glass roof. It operates from Whithorn and is expected to cover about 400 miles a week.
Some trailer banks introduced by English companies were described and illustrated in " The Commercial Motor on June 4.
.IOWET"F "CORNER" IN SHIPPING
AN order for 200 Bradford 8 1-1.p. utility vehicles for Spain has been received by Jowett Cars, Ltd.. through Aravix Motors, Ltd. Fifty have already been shipped and the remainder will be dispatched in a few days in M.V " Pelayo." The whole of the space in this vessel has been chartered for the shipment.
Tags
Organisations
:
Gosforth Urban District Council
,
National Federation of Vehicle Trades
,
Measharn Motor Sales Organization
,
Ministry of Food
,
Northern Licensing Authority
,
South Wales Licensing Authority
,
General Workers' Union
,
National Union
,
Fire Government
,
Association of Vehicle Builders
,
Scottish National Association of Vehicle
,
Communist Party
,
Amalgamated Society of Woodcutting Machinists
,
National Joint Industrial Council