TWO NEW ELECTRIC TRUCKS
25th June 1929
Page 67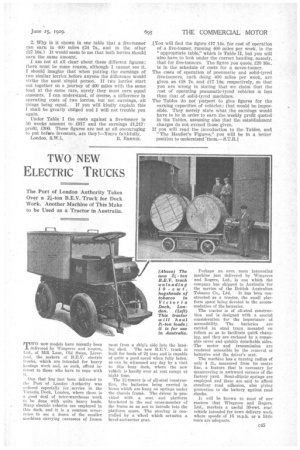 Page 67, 25th June 1929 —
TWO NEW ELECTRIC TRUCKS
Close
TWO new models have recently been delivered by Wingrove and Rogers, Ltd., of Mill Lane, Old Swan, Liverpool, the makers of B.E.V. electric trucks, which are intended for heavy haulage work and, as such, afford interest to those who have to cope with it.
One that has just been delivered to the Port of London Authority was ordered especially for -service in the Victoria Dock, London, where there is a good deal of. inter-warehouse work to be done with quite heavy loads. Many electric vehicles are employed in this dock; and it is a common occurrenee to see a dozen of the smaller machines carrying carcasses of frozen
meat from a ship's side into the landing shed. The new B.E.V. truck is built for loads of 2i tons and is capable of quite a good speed when fully laden, as can be witnessed any day by a visit to this busy dock, where the new vehicle is hardly ever at rest except at night time.
The 21-tenure' is of all-steel Construction, the batteries, being carried in boxes which are hung ort springs under the chassis frame, The driver is provided with a seat and platform bracketed to the end cross,member of the frame so as not to intrude into the platform space. The steering is controlled by a wheel which actuates a bevel-and-sector gear.
Perhaps an even more interesting machine just delivered by Wingrove and Rogers, Ltd.. is one which the company has shipped to Australia for the service of the British Australian Tobacco Co., Ltd. It has been constructed as a tractor, the small platform space being devoted to the accommodation of the batteries.
The tractor is of all-steel construction and is designed with a special consideration for the importance of accessibility. The batteries are carried in steel trays mounted on rollers so as to facilitate quick changing, and they are enclosed by a removable cover and quickly detachable sides. The motor and transmission are rendered accessible by the removal of batteries and the driver's seat.
The machine has a turning radius of only 4 ft., measured from its centre HIM a feature that is necessary for manceuvring in awkward corners of the factory yard. Semi-elliptic springs are employed and these are said to afford excellent road adhesion, also giving protection to the battery against road shocks.
It will be known to most of our readers that Wingrove and Rogers. Ltd., markets a useful 30-cwt, roe". vehicle intended for town delivery work where speeds of 15 m.p.h. or a little more are adequate.