Out and Home.—By "The Extractor."
25th June 1908
Page 12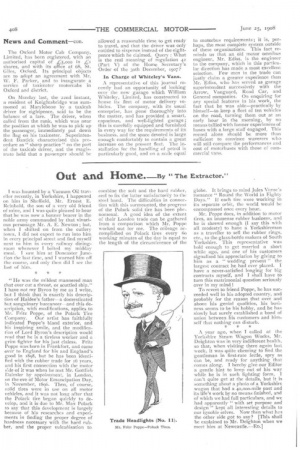 Page 12, 25th June 1908 —
Out and Home.—By "The Extractor."
Close
I was haunted by a Vacuum Oil traveller recently, in Yorkshire, I happened on him in Sheffield, Mr. Ernest E. Reinhold, the son of a very old friend of mine, and I was quite pleased to hear that he was now a banner bearer in the noble army commanded by that vivacious personage Mr. A. E. Newton ; but, when I shifted on from the cutlery town, I did not expect to run into him in every principal street and find myself next to him in every railway diningroom whenever I bolted my midday meal. T saw him at Doncaster Junction the last time, and T warned him off the course, and only then did I see the last of him.
"He was the mildest mannered man that ever cut a throat, or scuttled ship." I have not my Byron by me as I write, but I think that is exactly his description of Haidee's father—a domesticated but sanguinary buccaneer—and this description, with modifications, applies to Mr. Fritz Poppe, of the Polack Tire Company. Our artist has faithfully indicated Poppe's bland exterior, and his inspiring smile, and the modification of Lord Byron's description would read that he is a tireless worker and a grim fighter for his just claims. Fritz Poppe was born in Frankfort, and came over to England for his and England's good in 1898, but he has been identified with the rubber trade for x6 years, and his first connection with the motor side of it was when he met Mr. Gottlieb Daimler by appointment, in London, on the eve of Motor Emancipation Day, in November, 1896. Then, of course, solid tires were in use on all motor vehicles, and it was not long after that the Polack tire began quickly to develop, and it is due to Mr. Max Polack to say that this development is largely because of his researches and experiments in finding the proper degree of hardness necessary with the hard rubber, and the proper vulcanisation to combine the soft and the hard rubber, and to fix the latter satisfactorily to the steel band. The difficulties in connection with this surmounted, the progress of the Polack solid tire has been phenomenal. A good idea of the extent of their London trade can be gathered from a comparison which Mr. Poppe worked out for me. The mileage accomplished on Polack tires every 6o working minutes of the day is equal to the length of the circumference of the globe. It brings to mind Jules Verne's romance " Round the World in Eighty Days." If each tire were working in its separate orbit, the world would be encompassed once every hour.
Mr. Poppe does, in addition to motor tires, an immense rubber business, and he is shrewd enough (I say this with all modesty) to have a Yorkshirernan as a traveller to sell the rubber rings, etc., to the glass-bottle makers of South Yorkshire. This representative was bold enough to get married a short while ago, and one of his customers signalised his appreciation by giving to him as a " wedding present " the largest contract he had ever placed. I have a never-satisfied longing for big contracts myself, and I shall have to turn this matrimonial question seriously over in .rny mind!
To revert to friend Poppe, he has succeeded well in his adopted country, and probably for the reason that over and above his genial qualities, his business seems to be his hobby, and he has .slowly but surety established a bond of union between his customers and himself that nothing can disturb.
A year ago, when I called at the Yorkshire _Steam Wagon Works, Mr. Deighton was in very indifferent health, so that, when visiting there again last week, it was quite cheering to find the gentleman in first-rate fettle, spry as can be, and ready for anything that comes along. I hereby give our Editor a gentle hint to keep out of his way while he is in such fighting form. I can't quite get at the details, but it is something about a photo of a Yorkshire wagon that had a 40,000-mile past and its life's work by no means finished, and of which we had full particulars, and we had apparently " with set purpose and design " kept all interesting details to our ignoble selves. Now then what has the other side got to say? [This shall be explained to Mr. Deighton when we meet him at Newcastle.—En.]