Birmingham's Equity
25th July 1952
Page 36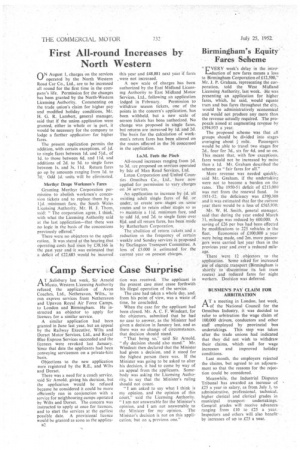 Page 36, 25th July 1952 —
Birmingham's Equity
Close
• Fares Scheme
" EVERY week's delay in the introduction of new fares means a loss to Birmingham Corporation of £12,500:' Mr. J. P. Graham, representing the corporation, told the West Midland Licensing Authority, last week. He was presenting an application for higher fares, which, he said, would equate tram and bus fares throughout the city, would be administratively economical and would not produce any more than the revenue actually required. The proposals aimed at augmenting revenue by £594.935 a year.
The proposed scheme was that all groups should be divided into stages averaging about mile. Passengers would be able to travel two stages for 2d., four for 3d., six for 4d. and so on. This meant that, with few exceptions, fares would not be increased by more than a ld. Mr. Graham described the scheme as " fair fares for all" More revenue was needed quickly, said Mr. Gaaham. if the undertaking were not to become a burden on the rates. The 1950-51 deficit of 1213,000 was met from the renewal fund. In 1951-52, the deficiency was £3911,308 and it was estimated that for the current year there would be a loss of £565,930.
Mr. W. H. Smith, general manager, said that during the year ended March 31, mileage was reduced by 600,000. A saving of 126 per bus had been effected by mpdifications to 225 vehicles in the fleet. Economies of £100,000 a year were being made, and 2m. more passengers were carried last year than in the previous year and over a reduced mileage.
There Were 12 objectors to the application. Some asked for increased pse of electric transport (Birmingham is shortly to discontinue Pits kik tram routes) and reduced fares for night workers. Decision was deferred.