"Sold for a Song"
25th July 1952
Page 33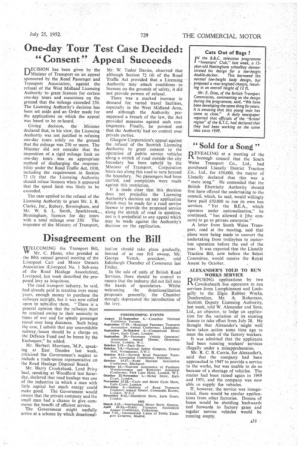 Page 33, 25th July 1952 —
"Sold for a Song"
Close
D EVEALING at a meeting of the /X borough council that the South Wales Transport ' Co., Ltd., had purchased Llanelly District Traction ,Co., Ltd., for £50,000, the mayor of Llanelly declared that this was a "mere song." He contended that the British Electricity Authority should first have offered the undertaking to the council, which, he said, would willingly have paid £50,000 to run its own bus services. " Yet the B.E.A., which operates under nationalization," he continued, "has allowed it [the concern] to go to private enterprise."
A letter from South Wales Transport, read at the meeting, said that plans were being made' to convert the undertaking from trolleybus to motorbus operation before the end of the year. It was expected that the Llanelly Traction Bill, now before the Select Committee, would receive the Royal Assent by October.
ALEXANDER'S TOLD TO RUN WORKS SERVICE
DEFUSING applications by two Cowdenbeath bus operators to run services from Lumphinnang and' Lochgelly to the Elgin Rubber_ Works, Dunfermline, Mr. A. Robertson, Scottish Deputy Licensing Authority, last week;told W. Alexander and Sons, Ltd., an objector, to lodge an application for the variation of its existing licence to take effect from July 28. He thought that Alexander's might well have taken action some time ago to meet the needs of the factory Workers.
It was admitted that the applicants had been running workers' services illegally under a misapprehension.
Mr. R. C. B. Currie, for Alexander's, said that the company had been approached in 1947 to provide a service to the works, but was unable to do so because of a shortage of vehicles. The matter had been raised again in 1949 and 1951, and the company was now able to supply the vehicles.
If, however, the service was inaugurated, there would be similar applications from other factories. Dozens of buses would be shuttling backwards and forwards to factory gates and regular service vehicles would be running empty.