Fewer Chassis Makers at Show : 11 New Models Expected
25th July 1952
Page 32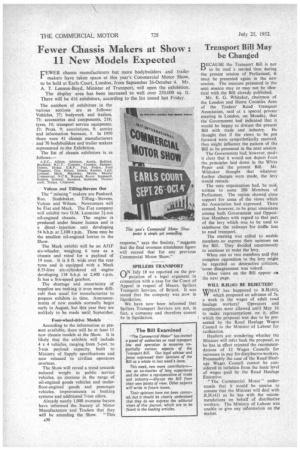 Page 32, 25th July 1952 —
Fewer Chassis Makers at Show : 11 New Models Expected
Close
Keywords :
Manufacturing
,
Leyland Motors
,
Trucks
,
Car Manufacturers
,
Road Transport
,
Vulcan
,
Scammell
,
Albion Motors
,
Thornycroft
,
Fiat
,
Ac Cars
,
Ford Motor Company
FEWER chassis manufacturers but more bodybuilders and trailer makers have taken space at this year's Commercial Motor Show, to be held at Earls Court, London, from September 26-October 4. Mr. A. T. Lennox-Boyd, Minister of Transport, will open the exhibition.
The display area has been increased to well over 250,000 sq. ft. There will be 416 exhibitors, according to the list issued last Friday.
The numbers of exhibitors in the various sections are as follows: Vehicles, 37; bodywork and trailers, 73; accessories and components, 218; tyres, 14; transport service equipment. 53; Press, 9; associations, 9; service and information bureaux, 3. In 1950 there were 41 chassis manufacturers and 70 bodybuilders and trailer makers represented in \the Exhibition.
The list of chassis exhibitors is as follows:—
A.E.C., Albion, Atkinson, Austin. Bedford.
Bradford,' Commer, Crossley. Daimler. Dennis. Dodge, E.R.F., Fiat, Foden, Ford (Thames), Guy. Helees, Jensen, !Carrier, Lain. Leyland. Mack. Maudslay, Morris, Morris Commercial, Renault, Rover, Scammell, Seddon, Sentinel. Standard, Sunbeam, Thornycroft, Trojan, Unipower.
Vulcan and Tilling-Stevens Out The " missing" makers are Panhard, Reo, Studebaker, TillingStevens, Vulcan and Wilson. Newcomers will be Fiat and Mack. The Fiat company will exhibit two O.M. Leoncino 21-ton oil-engined chassis.. The engine is produced under Saurer licence and is a direct injection unit developing 54 b.h.p. at 2,100 r.p.m. These may be the smallest oil-engined lorries in the Show.
The Mack exhibit will be an A51F six-wheeler, weighing 6 tons as a chassis and rated for a payload of 19 tons. It is 8 ft. wide over the rear tyres and is equipped with a Mack 8.35-litre six-cylindered oil engine developing 138 b.h.p. at 2,400 r.p.m. It has a five-speed gearbox.
The shortage and uncertainty of supplies are making it even more difficult than usual for manufacturers to prepare exhibits in time. Announcements of new models normally begin early in August, but this year they are unlikely to be made until September.
Four-wheel-drive Models According to the information at present available, there will be at least 11 new chassis models at the Show. It is likely that the exhibits will include 4 x 4 vehicles, ranging from 5-cwt. to 3-ton payload capacity, built to Ministry of Supply specifications and now released to civilian operators overseas.
The Show will reveal a trend towards reduced weight in public service vehicles, an increase in the range of oil-engined goods vehicles and underfioor-engined goods and passenger vehicles, improvements in braking systems and additional 7-ton oilers.
Already nearly 1,000 overseas buyers have informed the Society of Motor Manufacturers and Traders that they will be attending the Show. "This A30 response," says the Society, "suggests that the final overseas attendance figure will exceed that for any previous Commercial Motor Show."
SPILLERS TRANSPORT
(IN July 18 we reported on the pre
paration of a legal argument in connection with a case for the Court of Appeal in respect of Messrs. Spillers Transport Services, of Bristol. It was stated that the company was now in liquidation.
We have now been informed that Spillers Transport Services are not, in fact, a company and therefore cannot be in liquidation.
Transport Bill. May be Changed
BECAUSE the Transport Bill is not to be read a second time during the present session of Parliament, it must be presented again in the new session. The measure presented in the next session may or may not be identical with the Bill already published.
Mr. E. G. Whitaker, chairman of the London and Home Counties Area of the Traders' Road Transport Association, said at a special private meeting in London, on Monday, that the Government had indicated that it would be happy to discuss the present Bill with trade and industry. I-1e thought that if the views to be put forward were sympathetically received. they might influence the pattern of the Bill to be presented in the next session.
The Government had, however, made it clear that it would not depart from the principles laid down in the White Paper and the present Bill. Mr. Whitaker thought that whatever further changes were made, the levy Would remain.
The area organization had, he said, written to some 200 Members of Parliament. The replies showed close support for some of the views which the Association had expressed. There seemed, however, to be great uneasiness among both Government and Opposition Members with regard to that part of the levy which was to be used to reimburse the railways for traffic lost to road transport.
The meeting was called to enable members to express their opinions on the Bill. They decided unanimously to continue to resist the levy.
When one or two members said that complete opposition to the levy might be regarded as destructive criticism, some disagreement was voiced.
Other views on the Bill appear on the next page.
WILL R.H.(41) BE REJECTED? WHAT has happened to R.H.(41), IT which proposed an advance of 5s. a week in the wages of adult road haulage workers? Operators and employees were allowed until May 16 to make representations on it, after which the proposal was due to be presented by the Road Haulage Wages Council to the Minister of Labour for ratification.
Hauliers are wondering whether the Minister will refer back the proposal, as he has in effect rejected the recommendations of 12 Wages Councils for increases in pay for distributive workers. Presumably the case of the Road'Haulage Wages Council cannot be considered in isolation from the basic level of wages paid by the Road Haulage Executive.
"The Commercial Motor" understands that it would be unwise to assume that the Minister will deal with R.H.(41) as he has with the recommendations on behalf of distributive workers. The Ministry of Labour was unable to give any information on the matter.