ONE HEARS
25th July 1922
Page 3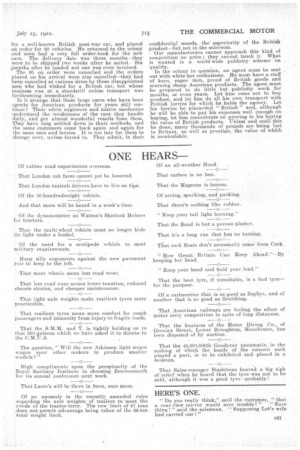 Page 3, 25th July 1922 —
ONE HEARS
Close
Of rubber road experiments overseas.
That London cab fares cannot yet be lowered.
That London taxicab drivers have to live on tips.
Of the 30-hundredweight vehicle.
And that more will be heard in a week's time.
Of the dynamometer as Watson's Sherlock Holmes for tractors.
That the multi-wheel vehicle must no longer hide its light under a bushel.
Of the need for a centipede vehicle to meet military requirements.
Many silly arguments against the new pavement rule to keep to the left.
----0 That more wheels mean less road wear.
That less road wear means lower taxation, reduced chassis strains, and cheaper maintenance.
That light axle weights make resilient tyres more practicable.
That resilient tyres mean more comfort for coach passengers and immunity from injury to fragile loads.
That the S.M.M. and T. is tightly holding on to that 250 guineas which we have asked it to donate to the C.M. U.A.
The question, " Will the new Atkinson light steam wagon spur other makers to produce smaller models " High compliments upon the perspicacity of the Royal Sanitary Institute in choosing Bournemouth for its annual conference next week.
That Lacre's will be there in force, once more.
Of an anomaly in the recently amended rules regarding the axle weights of trailers to meet the needs of the tractor-lorry. The new limit of a tons ,does not permit advantage being taken of the 22-ton total weight limit. Of an all-weather Hood.
That carbon is no bon.
That the Magnum is bonum.
Of arcing, sparking, and parking.
That there's nothing like rubber. " Keep your tail light burning."
That the Bond is but a porous plaster, That it's a long run that has no turning.
Tliat cork floats don't necessarily come from Cork.
"How Great Britain Can Keep Ahead."—By keeping her head.
"Keep your head and hold your lead."
That the best tyre, if unsuitable, is a bad tyre— for the purpose.
Of a carburetter that is as good as Zephyr, and of another that is as good as Zenithing.
That American railways are feeling the effect of motor lorry competition in spite of long distances.
That the business of the Motor Hiring Co., of Grecian Street, Lower Broughton, Manchester, has been disposed of by auction.
That the 45,000,000th Goodyear pneumatic, in the making of 1,,hich the heads of the concern each played a part, is to be exhibited and placed in a museum.
That Sales-manager Stadelman heaved a big sigh of relief -when he heard that the tyre was not to be sold, although it was a good tyre—probably!