PARKING PLANS FOR VISITING COACHES.
25th July 1922
Page 22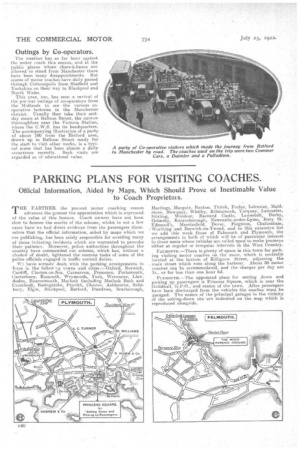 Page 22, 25th July 1922 —
PARKING PLANS FOR VISITING COACHES.
Close
Official Information, Aided by Maps, Which Should Prove of Inestimable Value to Coach Proprietoi s.
THE FARTHER the pre,ent motor coaching season advances the greater the appreciation which. is expressed of the value of this feature. Coach owners have not been slow to foresee the merits of the scheme, whilst in not a few eases have we had direct evidence from the passengers themselves that the official information, aided by maps which we , are publishing, has been solely responsible for avoiding many of those irritating incidents which are warranted to provoke their patience. Moreover, police authorities throughout the country have commended our schetne, which hag', without a shndow of doubt, lightened the onerous tasks of some of the police officials engaged in traffic control duties.
kV:t have a:readv dealt, with the parking arrangements in force in the follow'eg towns and cities :--Oxford, Norwich, Cardiff, Clacton-on-Sea, Carnarvon, Penzance, Portsmouth, Canterbury, Exmouth, Weymouth, York, Worcester, Llandudno, Bournemouth, Matlock (including Matlock Bath and Cromford), Basingstoke, Penrith, Chester, Ashbourne, Salis bury, Elgin, Blackpool, Retforcl, Dumfries, Scarborough Hastings, Margate, Buxton, Thirsk, Forfar, Leicester, Maidstone, Newquay, Whitby, Kilmarnock, Torquay; .Lancaster, Stirling, Windsor, Barnard Castle, Lowestoft, Derby, Grimsby, Knaresborough, Newcastie.under-Lyme, Bury St. Edmund's, Macclesfield, Dover, Paignton, Cheltenham, Worthing and Berwick-on-Tweed, and to this extensive list we add this week those of Falmouth and Plymouth, the arrangements in both of which will be of particular interest to those users whose vehicles arc called upon to make journeys either at regular or irregular intervals in the West Country.
Fai,movrtt.—There is plenty of space in'this town for parking visiting motor coaches on the moor, which is centrally located at the bottom of Killigrew Street, adjoining the _ main street which runs along the harbour. About 50 motor, coaches can be accommodated, and the charges per day are is., or for less than one hour bd.
PLYMOUTH. —The appointed place for setting .down and picking up passengers is Princess Square, which is near the Guildhall, G.P.O., and centre of the town. After passengers have been discharged from the vehicles the coaches must be garaged. The names of the principal garages in the vicinity of the setting-down site are indicated on the map which is reproduced along,side..