PASSENGER TRAVEL NEWS.
25th July 1922
Page 19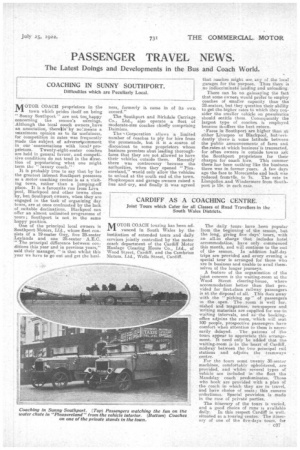 Page 20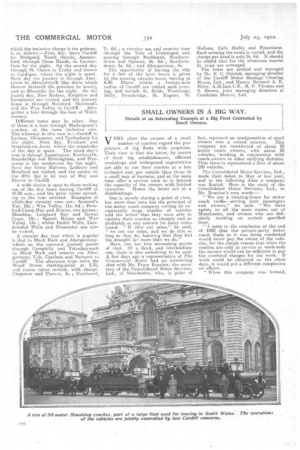 Page 21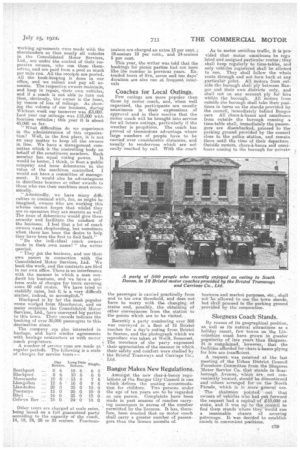 Page 22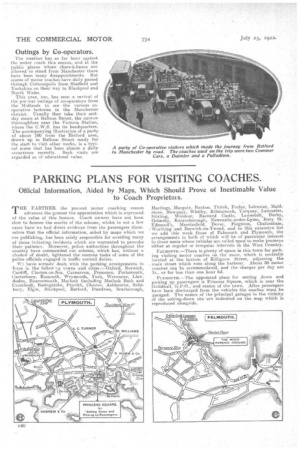 Page 19, 25th July 1922 —
PASSENGER TRAVEL NEWS.
Close
The Latest Doings and Developments in the Bus and Coach World.
COACHING IN SUNNY SOUTHPORT.
Difficulties which are Peculiarly Local.
MOTOR COACH proprietors in the town which prides itself on being "Sunny Southport" are not too.happy concerning the season's earnings. Although the local coach owners.have an association, there)islay no:means a unanimous opinion as to its usefulness, for Competition in rates was frequently made the subject of adverservomment in our 'conversations with locaP proprietors. Twenty-eight-seater coaches are held in general favour, and competitive conditions do not tend in the direction of popularizing what one might term thc luxury coach."
It is probably true to say that by far the greatest interest Southport possesses as a motor coaching centre is as a visiting town, rather than a jumping-off place. It is a favourite run from Live, pool, Blackpool and other towns close by, but Southport owners, when they are engaged in the task of organizing day tours, are at once confronted by the lack of suitable destinations. Blackpool can offer an almost unlimited programme of tours ; Southport is not, in the same happy position.
One of the principal local owners is Southport. Motors, Ltd., whose fleet consists of a 19-seater Guy, five 28-seater Leylands and one 28-seater A.E.C. " The principal difference between conditions this year and in previous years," said their manager, " is that whilst this year we have to go out and get the busi.. ness, formerly it came in of its own accord."
The Southport and Birkdale Carriage Co., Ltd., also operate a fleet of moderate-size coaches chiefly comprising Daimlers.
The 's Corporation allows a limited number of coaches to ply for hire front the promenade, but it is a source of discontent to some proprietors whose business premises abut leading thorough. fares that they are not allowed to have their vehicles outside them. Recently there was controversy because the authorities, when they opened " Pleasureland," would only allow the vehicles to unload at the south end IA the town. Shopkeepers and garage owners raised a hue and-cry, and finally it was agreed
that coaches might use, any of the local garages for the purpose. Thus there is no indiscriminate. loading and unloading.
There can be no gainsaying the fact that some owners would prefer to employ coaches of smaller capacity than the 28-seaters, but they question their ability to get the higher rates to which they Consider the smaller vehicle on pneumatics. should entitle them. Consequently the largest type of coaches is employed because it4cffers the best return.
-Fares in Southport are higher than a6 either Liverpoo or Blackpool, hut;evidently 'there. is some latitude between the public announcements of fares and the,rates.at which business is transacted, for often owners in outside towns ask the Southport proprietors for their charges for coach hire. This summer there has been nothing. like the business there was in former years. A few days ago the fare to Morecambe and back was
reduced froms8s. to 7s. The rate to Llangollen .and Windermere from Southport is 15s. in each case.
CARDIFF AS A COACHING CENTRE.
Joint Tours which Cater for all Classes of Road Travellers in the South Wales Districts.
MOTOR COACH touring has been advanced in South Wales by the institution of extended tours and daily services jointly controlled by the motor coach department of the Cardiff Motor Haulage Clearing House Co., Ltd., of Wood Street, Cardiff, and the Cambrian Motors, Ltd., Wells Street, Cardiff.
The daily tourshave been popular from the beginning of the season, but the long, giving five days' tours, with an all-in charge that includes hotel accommodation, have only commenced this month, and will continue to the end of the season. In addition half-day trips are provided and every evening a special tour is arranged for those who are in business and linable to avail themselves of the longer journeys. A feature of the organization of the joint concern is the waiting-room at the. Wood Street clearing-house, where accommodation better than that provided for first-class railway Passengers is at the disposal of all. This does away 'with the " picking up" of passengers in the open. The room is welt furnished and magazines, newspapers and writing materials are supplied for usein waiting intervals, and asthe booking office adjoins the room, which will seat 100 people, prospective passengers have comfort, when attention to them is neces sarily delayed. The patrons of the tours appear to appreciate this arrangement. It need only be added that the waiting-room is in the heart of Cardiff. midway between the two principal rail stations and adjoins the tramways centre.
For the tours some twenty 30-seater machines. comfortably upholstered, are provided, and whilst several types of vehicle are included in the fleet the Maudslay coach predominates. Those who book are provided with a plan of the coach in which they are to travel, and have choice of seats; this ensures orderliness. Special provision is made in the case of private parties.
The itinerary of the tours is varied, and a good choice of runs is available
daily. In this respect Cardiff is wellsituated as a touring centre. The itinerary of one of the five-days tours, for -• 037
which the inclusive charge is ten guineas, is as follows :—First, day, leave Cardiff for Bridgend, Neath (flinch), Ammanford, through Cross Hand; to Carmarthen for the night. On the second day through St. Clears to Tcnby and thence to Cardigan, where the night is spent. Next day the journey is through Aberayron to Aberystwyth (the drive which Borrow declared the prettiest he knew), and to Rhayader for the night. On the fourth day, New Radnor, Knighton and Leominster are visited, and the journey home is through Hereford, Monmouth and the Wye Valley to Cardiff. Altogether a tour through the best of Welsh scenery.
Different tours may be taken. One of. these is a tour through Shakespeare's country, at the call1C inclusive rate. The itinerary in this ease is :—Cardiff to Lydney, Gloucester, and Tewkesbury fur the night. Next day, Evesham and Stratford-on-Avon, -where the remainder of the day is spent. The third day's tour is through Leamington, Kenilworth, Stonebridge and Birmingham, and Woes easier is the rendezvous for the night. Next day GreatMalvern, Ledbury and Hereford are visited, and the return on the _fifth day "is by way of Hay and 13tecon to Cardiff.
A wide choice is open to those making use of the day tours leaving Cardiff at 10.30 a.m., and the price varies according to the tour selected. Examples of whole-day circular runs are: Symond's Yat, 13s. ;Wye Valley, us. 6d. ; Hereford-Cusop-Ha.y and Brecon, one guinea; Mumbles, Lan gland Bay and Gower Coast, 15s.; Speech House and Wye Valley, 15s.; whilst Builth Wells, Liondrindod Welts and Gloucester tan alsn be visited.
A circular day tour which is popular is that to Black Rock and Ahergavenny, which on the outward journey passes through Caerphilly and YStradmynach -Co Black Rock and returns via 'Abergavenny, Usk, Caerleon and Newport to Cardiff. The afternoon trips leave the Wood Street starting-point at 2.30, and routes taken include, with charge, Chepstow and Tintern, 9s.; Porthcawl, 7s. 6d. ; a circular sea and country tour through the Vale of Glamorgan and passing through Porthcaw4 Southern. down and Oginore, 8s. 6d.; Southerndown, 6s. 6d.; and Abergavenny, Sc.
The opportunity of leaving the city for a few of the later hours is given by the evening circular tours, leaving at 6.39. Places within a twenty-mile radius of Cardiff are visited each evening, and include St. Bride, Wentlooge, Sully, Swanbridge, St. Pagans, St. INfellons, Cefn Mably and Peterstone. Each evening the route is varied, and the charge per head is only 2s. 6d. It should be added that for the afternoon tourist 5s. trips are arranged. The tours are settled and managed by Mr. F. C. Gerrish, managing director of the Cardiff• Motor Haulage Clearing House, Ltd., and Messrs. Bernard A. E. Riley, A.M.Inat.C.E., R. P. Thomas and S. Brown, joint managing directors of Cambrian Motors, Ltd.
SMALL OWNERS IN A BIG WAY.
Details of an Interesting Example of a Big Fleet Controlled by Small Owners.
VERY often the owners of a small number of coaches regard the proprietors of big fleets with suspicion. Their view is that the latter, by reason of their big establishments, efficient workshops and widespread organization are able to run their coaches at a less inclusive cost per vehicle than those in a Small way of business, and at the same time offer a service such as is beyond the capacity of the owners with limited
resources. Hence the latter are at a disadvantage.
One is merely stating a point of view, but more than once has the principal of one motor coach company owning an exceptionally large number of vehicles told the writer that theywere able to operate their coaches as cheaply and as profitably as any concern for many miles round. ' If they out rates," be said, " we cut our rates, and we do this so long as they do, knowing that they feel the draught far more than we do."
Here, one has two interesting points of view. Of a third, and intermediate one, there is also something to be said. A few days ago a representative Of Tim Commercial Motor had an interesting chat with Mr. Percy Boucher, the secretary of the Consolidated Motor Services, Ltd., of Manchester, who, in point of
fact, represent an amalgamation of small owners into a united concern. This company are constituted of about 30 motor coach owners, with about 50 vehicles, working in ccinjunctian with coach, owners in other outlying districts. Thus there is represented a fleet of about 100 vehicles.
The Consolidated Motor Services, Ltd., made their debut in May of last year, and in the following 'June a company was floated. Here is the story of the Consolidated Motor Services, Ltd., in Mr. Boucher's own words " We are a clearing-house for motor coach traffic—serving both passengers and owners," he said. " We have agents on all the main routes out of Manchester, and owners who are definitely working on certain specified lines.
" I came to the conclusion at the end of 1920 that the private-party motor coach :glade as it was being conducted would never pay the owner of the vehicles, for the simple reason that when the coaches are only in service at w,eek-ends the income would not be sufficient to pay the overhead charges for the week. If work could be obtained on the other days, it would put a different complexion on affairs.
" When this company was formed,
working agreements were made with tho shareholders so that nearly all vehicles in the Consolidated Motor Services, Ltd., are under the control of their respective owners, who run them themselves, and are paid from a pool so much' per mile run, All the receipts are pooled. All the book-keeping is done in our office, and we collect and pay all accounts. The respective owners maintain, and keep in repair, -their own vehicles, and if a coach is not able to turn out then,. obviously, the owner is the loser, by reason of loss of mileage. As showing the volume of our business, during Whitsuri week our turnover was £3,000. Last year our mileage was ,115,000 with fourteen vehicles; this year it is about 45,000 so far.
"What difficulties do we experience in the administration of this organization? Well, in the first place, it is not an easy matter to keep all the owners in line. We have a management Committee which is the controlling body on behalf of the constituent members. Each member has equal voting power. It would be better, I think, to float a public company and issue debentures to the value of the machines controlled. I would not have a committee of management,. It would also be advantageous to distribute bonuses or other awards to those who run their machines moet economically.
"Admittedly, we have many difficulties to contend with, for, as might be imagined, owners who are working this scheme cannot forget that whilst they are co-operators they are masters as well. The issue of debentures would give them security and facilitate the conduct of the business. I feel that alot of coach owners want shepherding, hut sometimes when there has been the desire to help they have been the first to find fault."
"`Do the individual coach owners trade in their own name? " the writer queried.
"They get the business, and use their own names in connection with the Consolidated Motor Services, Ltd. We book the work, and the contracts are filed in our own office. Them o is no interference with the manner in which a man conductie his business, and we have a urnform scale of charges for tours covering some 60 odd routes, We have tried to stabilify rates, but it is a very difficult Matter, indeed, to
accomplish."
• Blackpool is by far the most popular route worleed from Manchestar, and on many occasions the Consolidated Motor Services, Ltd., have conveyed big parties to this town. Their tecords indicate the hooking of over 30,000 passengers to this destination alone.
The company are also interested in haulage, and have similar agreements with haulage contractors as with meter coach proprietors.
A number of service runs are made at regular periods. The following is a scale of charges for service tours
Other tours are charged at scale rates, ' being based on a full guaranteed party according to the capacity of the coach, 14, 18, 24, 28 or 33 seaters. Fourteen
seaters are charged an extra 15 per cent. ; 18-seaters 10 per cent., and 24-seaters 5 per cent.
This year, the writer was told that the bookings for picnic parties had not been like the number in previous years. Extended tours of five, seven and ten days' duration are also rim at frequent intervals
Coaches for Local Outings.
Few outings are more popular than those by motor coach, and, when well organized, the participants are usually unanimous in their expressions of approval and in their resolve that the motor coach will be brought into service for all future outings, particularly if the weather is propitious. The coach has proved of tremendous advantage where large numbers of people have to be carried 'over considerable distances, and usually to rendezvous which are not easily reached by rail. With the coach the passenger is carried practically from and to his own threeheld, and does not have to worry with the changing of trains and, possibly, the obtaining of • other conveyances from the station to the points which are to he visited.
Recently a party numbering over 500 was conveyed in a fleet of 18 Bristol coaches for a. day's outing from Bristol to Seaton, and the photograph which we reproduce Was taken at Weil, Somerset. The members of the party expressed their appreciation of the manner in which their safety and comfort were studied by the Bristol Tramways and Carriage Co., Ltd.
Bangor Makes New Regulations.
Amongst the new char-a-bancs regulations of the Bangor City Council is one which defines the seating 'accommodation for children. Two persons under the age of ten .years are to he 'regarded as one person. Complaints have been made in past seasons of coaches carrying passengers in excess of the number permitted by the licences. It has, therehere, been enacted that no motor coach shall carry a greater number of passengers then the licence permits of. As to motor omnibus traffic, it is provided that motor omnibuses be regu lated and assigned particular routes; they shall keep regularly to time-tables, and only vehicles registered shall be allowed to run_ They shall follow the whole route through and not turn hack at any particular point. All motors from outside the borough shall ply between Bangor and their own districts only, and shall not on any account ply for hire within the borough. All motors front outside the borough shall take their positions in turns on the standg provided by the council, immediately behind Bangor cars. All chars-a-banes and omnibuses from outside the borough running a time-table shall, immediately the passengers are disembarked, proceed to the parking ground provided by the council close to the police station, and remain there until the time of their departure. Outside motors, chars-a-bancs and omnibuses coming to the borough for private business and market purposes, etc., shall not be allowed to use the town stands, but shall proceed to the parking ground provided by the corporation.
Skegness Coach' Stands.
By reason of its geographical position, as well as its natural attractions as a holiday resort, few towns on the Lincolnshire coast have grown in greater popularity of late years than Skegness. It is complained, however, that the facilities afforded for ehars-a-bancs plying for hire are insufficient.
A request was received at the last meeting of tho Urban District Council Foreshore Committee from the Skegness Motor Service Co. that stands in Scarborough Avenue, which are not conveniently located, should be discontinued and others arranged for' on the North Parade, which is in more general use.
The chairman pointed " out that owners of vehicles who had put forward the request had a capital of £10,600 at stake, and it was up to the cciuncil to find them stands where they ivould run a reasonable chance of securing patronage. It 'was decided to establish stands in convenient peeitions.
Outings by Co-operators.
The weather has so far been against the motor coach this season, and at the public places where chars-'abanes are allowed to stand from Manchester there have been many disappointments. But scores of motor coaches have daily passed through Cottonopolis from Sheffield and Yorkshire on their way to Blackpool and North Wales.
This year, too, has seen a revival of the pre-war outings of co-operators from the Midlands to see the various cooperative factories in the 3Ianchester district. -Usually they take their midday meals at Balloon Street, the narrow thoroughfare near the Victoria Station, where the C.W.S. has its headquarters. The accompanying illustration of a party of about 100 from the R;etford area, drawn up in Balloon Street ready for the start to visit other works, is a typical scene that has been almost a daily occurrence recently. Such visits are regarded as of educational value.
Tags
Locations
:
Hereford
,
Manchester
,
Yorkshire
,
SOUTHPORT
,
CARDIFF
,
Stonebridge
,
Liondrindod Welts
,
Lydney
,
Sheffield
,
Kenilworth
,
Leamington
,
Birmingham
,
Abergavenny
,
Bristol
,
Woe
,
Newport
,
Seaton
,
Gloucester
,
Ledbury