A LOST MARKET OVERSEAS.
25th July 1922
Page 2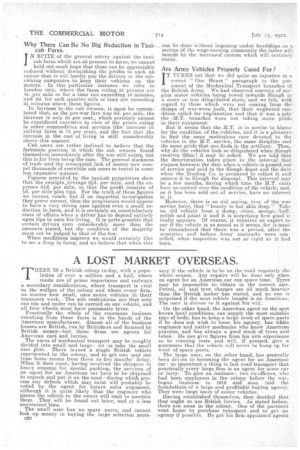 Page 3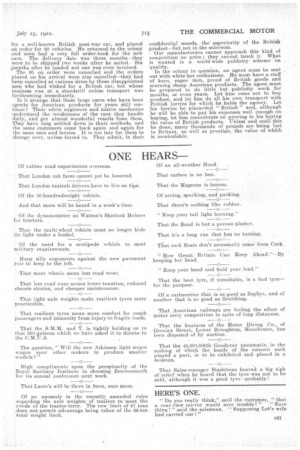 Page 2, 25th July 1922 —
A LOST MARKET OVERSEAS.
Close
THERE IS a British colony to-day, with a population of over a million and a half, where roads are of prime importance and railways a secondary consideration, where transport is vital to the welfare of the colony and where every firm, no matter how small, uses motor vehicles in their transport -work. The sole restrictions are that only one ton and under can be carried on one vehicle, and all four wheels must have pneumatic tyres.
Practically the whole of the enormous business resulting from -these facts is in the hands of the American manufacturer. Almost all of the business houses are British, run by Britishers and financed by British money—but these firms are agents for American cars and lorries.
The users of mechanical transport may be roughly divided into small and large : let us take the small user trst. There isJnot a single British vehicle represented in the colony, and to get one sent out from home means from three to five months' delay. When it does come, having involved the shippers in heavy expense for special packing, the services of an agent for an American car have to be obtained to unpack and put it on the road—during which process any defects which may exist will probably he noted by the agent for future sales argument, although it is quite likely that the engineer who passes the vehicle to the owner will omit to mention them. They will be found out later, and at a less convenient time.
The small user has no spare parts, and cannot lock up money in buying the large selection necesc20
sary if the vehicle is to be on the, road regularly the whole season. Any repairs will be done only when. an agent for an American car can spare time. Tyres may be impossible to obtain in the correct size. Petrol, oil and tyre charges are all much heavier than the British. maker has stated, and no one is surprised if the next vehicle bought is an American. The user is driven to it against his will.
On the other hand, the American agent on the spot knows local conditions, can supply the most suitable type of body, has to keep a large stock of spare parts if he does not wish to loose his agency, has white engineers and native mechanics who know American practice, and has always a good stock of tyres and tubes. He can give figures from his own experience as to running costs and will, if pressed, give a guarantee that. the vehicle will never be hung up for want of spare parts.
The large user, on the other hand, has generally been driven to becoming the agent, for an American car: so important a thing is fast road transport that practically every large firm is an agent for some car or lorry. To give an instance : two ex-officers, who had been employees in the colony before the war, began business in 1919 and soon laid the foundations of a large and profitable buying agency. They were large users of motor vehicles.
Having established themselves, they decided that they ought to use British lorries. As stated before, there are none in the colony. One of the partners went home to purchase transport and to get an agency if possible. He got his firm appointed agents for a well-known British post-war car, and placed an order for 20 vehicles. He returned to the colony and soon had a very full order-book for the new cars. The delivery date was three inontbs—they were to be shipped two weeks after he sailed.Six months after he landed not one was even invoiced.
The 20 on order were cancelled and the orders placed on his arrival were also cancelled—they had been cancelled at various dates by those disappointed men who had wished for a British car, but whose business was at a standstill unless transport was forthcoming immediately. Is it strange that these large users who have been agents for American products for years still continue? Their white engineers and native mechanics understand the weaknesses of the cars they handle daily, and get almost wonderful results from them. They have long settled down in their methods, and the same customers come back again and again for the same cars and lorries. It is too late for them to change over, unless forced to. They admit, in their confidential moods, the superiority of the British product—but not in the saleroom. Our manufacturers cannot approach this kind of competition on price ; they cannot touch it. What is wanted is a world-wide publicity scheme on quality. In the colony in question, an agent must be sent out with white-hot enthusiasm. He must have a staff of keen, eager men, proud of British goods and scorning cheap American products. The agent must be prepared to do little but publicity work for months, or even years. Let him come out to buy produce, and let him do all his own transport with British lorries for which he holds the agency. Let his lorries be placarded " British " and, although he will be able to pay his expenses well enough on buying, let him concentrate on proving in his buying the value of British products. Unless and until this be done, many thousands of pounds are being host to Britain, as well as prestige, the value of which is incalculable.