Men in the News
25th January 1957
Page 30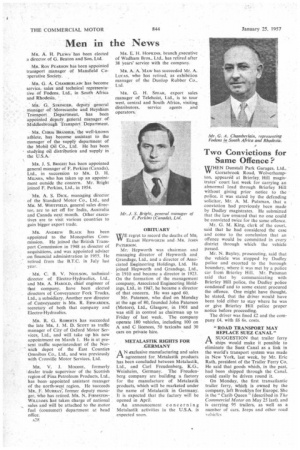 Page 30, 25th January 1957 —
Men in the News
Close
Ma. A. H. PLEWS has been elected a director of G. Beaton and Son, Ltd.
MR. ROY PEARSON has been appointed transport manager of Mansfield Coaperative Society.
MR. G. A. CHAMBERLAIN has become service. sales and technical representative. of Fodens. Ltd., in South Africa and Rhodesia. • Ma. G. STRINGER, deputy general manager of . Morecambe and Heysham Transport Department, has been appointed _deputy general manager of Middlesbrough Transport Department.
MR. CHRIS BRASHER, the well-known athlete, has become assistant to the manager of the supply department of the Mobil Oil Co., Ltd. He has been studying oil distribution and supply in the U.S.A.
M. .1. S. Broom has been appointed general manager of F. Perkins (Canada), Ltd., in succession to Ma. D. H. MILNES, who has taken up an appointment outside the concern. Mr. Bright joined F. Perkins, Ltd., in 1954.
MR. A. S. DICK, managing director of the Standard Motor Co., Ltd.. and MR. M. WHITFIELD, general sales director, are to set off for India. Australia and Canada next month. Other executives are to visit various countries to gain bigger export trade.
MR. ANDREW BLACK has been appointed to the Monopolies Commission. He joined the( British Transport Commission in 1948 as director of acquisitions, and was appointed adviser on financial administration in 1955. He retired from the B.T.C. in July last year.
Mi. C. B. V. NEILSON, technical director of Eleetro-Hydraulics, Ltd., and Ma. A. HAROLD, chief engineer of that company, have been elected directors of Conveyancer Fork Trucks, Ltd., a subsidiary. Another new director of Conveyancer is Ma. R. EDWARDES, secretary of both that company and Electro-Hydra ulics.
Ma. R. G. ROBERTS has succeeded the late MR. J. M. D. Scorr as traffic manager of City of Oxford Motor Services, Ltd., and will take up his new appointment on March 1. He is at present traffic superintendent of the Norwich depot of the East Counties Omnibus Co., Ltd., and was previously with Crosville Motor Services, Ltd.
MR. V. J. MOODIE, formerly dealer trade supervisor of the Scottish region of Fina Petroleum Products, Ltd., has been appointed assistant manager of the north-west region_ He succeeds MR.. F. MURRAY, former deputy manager, who has retired. Ma. N. FIRMSTONWILLIAMS has taken charge of national sales and will be attached to the motor fuel (consumer) department at head office.
A28 MR. E. H. HoPkiNs, branch,executive of Wadham Bros., Ltd., has retired after 38 years' service with the company.
MR. A. A. MAW has succeeded Mr. A. Lucas, who has retired, as exhibition manager of the Dunlop Rubber Co., Ltd.
MR. G. H. SPEAR, export sales manager of Telehoist, Ltd., is to tour west, central and South Africa, visiting distributors. service agents and operators.
OBITUARY
WE regret to record the deaths of Ma. TY ELIJAH HEPwoalti and MR. JOHN PATERSON.
Mr. Hepworth was chairman and managing director of Hepworth and Grandage, Ltd., and a director of Associated Ealgineering Holdings, Ltd. He joined Hepworth and Grandage, Ltd., in 1910 and became a director in 1923. On the formation of the management company, Associated Engineering Holdings, Ltd., in 1947, he became a director of that concern. He was aged 60.
Mr. Paterson, who died on Monday at the age of 80, founded John Paterson (Motors), Ltd., Glasgow, in 1901 and was still in control as chairman up to Friday of last week. The company operate 180 vehicles, including 100 on A and C licences, 50 taxicabs and 30 cars on private hire.
METALASTIK RIGHTS FOR GERMANY
A N exclusive manufacturing and sales P-1 agreement for Metalastik products has been concluded between Metalastik, Ltd., and Carl Freudenberg, K.G., Weinheim, Germany. The Freudenberg company are building a factory for the manufacture of Metalastik products, which will be marketed under the name of Metalastik in Germany. It is expected that the factory will be opened in April.
An announcement concerning Metalastik activities in the U.S.A. is expected soon.
Tags
People
:
V. J. MOODIE
,
A. A. MAW
,
R. EDWARDES
,
A. Lucas
,
G. H. SPEAR
,
Carl Freudenberg
,
D. H. MILNES
,
G. STRINGER
,
F. MURRAY
,
Bright
,
S. Broom
,
JOHN PATERSON
,
A. S. DICK
,
ANDREW BLACK
,
CHRIS BRASHER
,
ROY PEARSON
,
M. WHITFIELD
,
G. A. CHAMBERLAIN