One Hears
25th January 1957
Page 27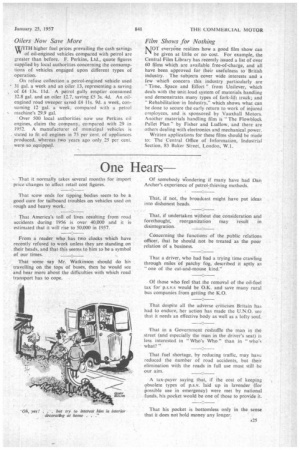 Page 27, 25th January 1957 —
One Hears
Close
That it normally takes several months for import price changes to affect retail cost figures.
That scow ends for tipping bodies seem to be a good cure for tailboard troubles on vehicles used on rough and heavy work.
That America's toll of lives resulting from road accidents during 1956 is over 40,000 and it is estimated that it will rise to 50,000 in 1957.
From a reader who has two clocks which have recently refused to work unless they are standing on their heads, and that this seems to him to be a symbol of our times.
That some say Mr. Watkinson should do his travelling on the tops of buses, then he would see and hear more about the difficulties with which road transport has to cope. Of somebody Wondering if many have had Dan Archer's experience of petrol-thieving methods.
That, if not, the broadcast might have put ideas into dishonest heads.
That, if undertaken without due consideration and forethought, reorganization may result in disintegration.
Concerning the functions of the public relations officer, that he should not be treated as the poor relation• of a business.
That a driver, who had had a trying time crawling through miles of patchy fog, described it aptly as "one of the cat-and-mouse kind."
Of those who feel that the removal of the oil-fuel tax for p.s.v.s would be O.K. and save many rural bus companies from getting the K.O.
That despite all the adverse criticism Britain has had to endure, her action has made the U.N.O. see that it needs an effective body as well as a lofty soul.
That in a Government reshuffle the man in tht street (and especially the man in the driver's seat) is less interested in "Who's Who" than in "who's what'?"
That fuel shortage, by reducing traffic, may have reduced the number of road accidents, but their elimination with the roads in full use must still be our aim.
A tax-payer saying that, if the cost of keeping obsolete types of p.s.v. laid up in lavender (for possible use in emergency) were met by national funds, his pocket would be one of those to provide it.
That his pocket is bottomless only in the sense that it does not hold money any longer.