Spot checks for . Wales and Lams
25th December 1982
Page 9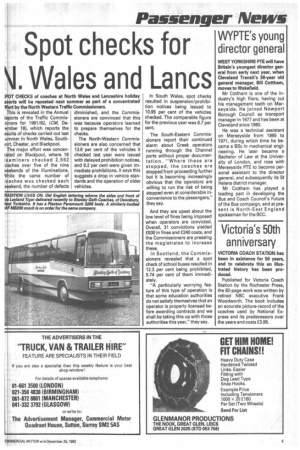 Page 9, 25th December 1982 —
Spot checks for . Wales and Lams
Close
T CHECKS of coaches at North Wales and Lancashire holiday s$ods will be repeated next summer as part of a concentrated rt by the North Western Traffic Commissioners.
his is revealed in the Annual leports of the Traffic Commisloners for 1981/82, (CM, Dee Tiber 18), which reports the asults of checks carried out last ummer in North Wales, Southlort, Chester, and Blackpool.
The major effort was concenrated on Blackpool, where 16 aminers checked 2,552 caches over five of the nine veekends of the illuminations. Vhile the same number of :caches was checked each veekend, the number of defects diminished, and the Commissioners are convinced that this was because operators learned to prepare themselves for the checks.
The North-Western Commissioners are also concerned that 13.8 per cent of the vehicles it checked last year were issued with delayed prohibition notices, and 6.2 per cent were given immediate prohibitions. It says this suggests a drop in vehicle standards and the operation of older vehicles. In South Wales, spot checks resulted in suspension/prohibition notices being issued to 10.95 per cent of the vehicles checked. The comparable figure for the previous year was 8.7 per cent.
The South-Eastern Commissioners report their continued alarm about Greek operators running through the Channel ports without proper documentation . "Where these are stopped, the coaches are stopped from proceeding further but it is becoming increasingly obvious that the operators are willing to run the risk of being stopped even at considerable inconvenience to the passengers," they say.
And they are upset about the low level of fines being imposed when operators are convicted. Overall, 31 convictions yielded £630 in fines and £240 costs, and the Commissioners are pressing the magistrates to increase these.
In Scotland, the Commissioners revealed that a spot check of school buses resulted in 12.3 per cent being prohibited, 5.74 per cent of them immediately.
"A particularly worrying feature of this type of operation is that some education authorities do not satisfy themselves that an operator is properly licensed before awarding contracts and we shall be taking this up with those authorities this year," they say.