'No cross
25th December 1982
Page 8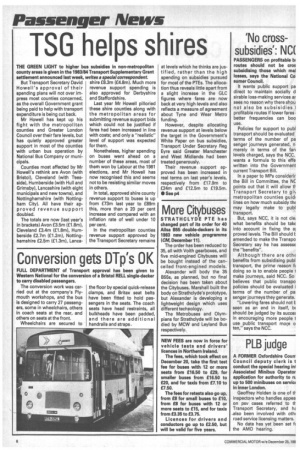 Page 8, 25th December 1982 —
'No cross
Close
subsidies': •
subsidies : NC(
PASSENGERS on profitable Ix routes should not be cros subsidising those which mal losses, says the National Co sumer Council.
It wants public support pa direct to maintain socially d sirable loss-making services ar sees no reason why there shou not also be subsisidies 1 profitable routes if lower fares I better frequencies can boo use.
Policies for support to publ transport should be evaluated terms of the number of pa senger journeys generated, ni merely in terms of the fan levels charged, says the NCC. wants a formula to this effe written into the Government current Transport Bill.
In a paper to MPs considerir the Bill in Committee, the NC points out that it will allow -0 Transport Secretary to giv metropolitan counties guidi lines on how much subsidy Du may legally make to pubi transport.
But, says NCC, it is not clei what benefits should be take into account in fixing the al proved levels. The Bill should t amended to make the Transpo Secretary say he has assesse the "benefits".
Although there are oth( benefits from subsidising publ transport, the prime reason fc doing so is to enable people 1 make journeys, said NCC. So believes that public transpo Policies should be evaluated i terms of the number of pa! senger journeys they generate.
"Lowering fares should not h seen as an end in itself, bi should .be judged by its succe: in encouraging more people I use public transport more o ten," says the NCC.