Oakley drivers fined
25th December 1982
Page 6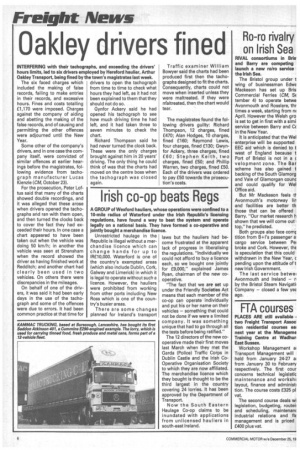 Page 6, 25th December 1982 —
Oakley drivers fined
Close
INTERFERING with their tachographs, and exceeding the drivers' hours limits, led to six drivers employed by Hereford haulier, Arthur Oakley Transport, being fined by the town's magistrates last week.
The six faced charges which included the making of false records, failing to make entries in their records, and excessive hours. Fines and costs totalling £1,170 were imposed. Charges against the company of aiding and abetting the making of the false records, and of causing and permitting the other offences were adjourned until the New Year.
Some other of the company's drivers, and in one case the company itself, were convicted of similar offences at earlier hearings before the magistrates, following evidence from tachograph manufacturer Lucas Kienzle (CM, October 23).
For the prosecution, Peter Loftus said that many of the charts showed double recordings, and it was alleged that these arose when drivers opened the tachographs arid ran with them open, and then turned the clocks back to cover the fact they had exceeded their hours. In one case a chart appeared to have been taken out when the vehicle was doing 50 km/h; in another the vehicle was seen at Strensham when the record showed the driver as having finished work at Redditch; and another chart had clearly been used in two vehicles. On others there were discrepancies in the mileages.
On behalf of one of the drivers, it was said it had been early days in the use of the tachograph and some of the offences were due to errors. It had been common practice at that time for drivers to open the tachograph from time to time to check what hours they had left, as it had not been explained to them that they should not do so.
Gynfor Ackery said he had opened his tachograph to see how much driving time he had left, and it had taken three to seven minutes to check the chart.
Richard Thompson said he had never turned the clock back. These were the onh,/ charges brought against him in 20 years' driving. The only thing he could think of was that the charts had moved on the centre boss when the tachograph was closed again. Traffic examiner William Bowyer said the charts had been produced first then the tachographs designed to fit the charts. Consequently, charts could not move when inserted unless they were maltreated. If they were maltreated, then the chart would tear.
The magistrates found the following drivers guilty: Richard Thompson, 12 charges, fined £470; Alan Hodges, 10 charges, fined £160; Raymond Lewis, four charges, fined £130; Gwynfor Ackery, three charges, fined £60; Stephen Keith, two charges, fined £50; and Phillip Warren, two charges, fined £50. Each of the drivers was ordered to pay £50 towards the prosecution's costs.