Operator defeats council
25th December 1982
Page 4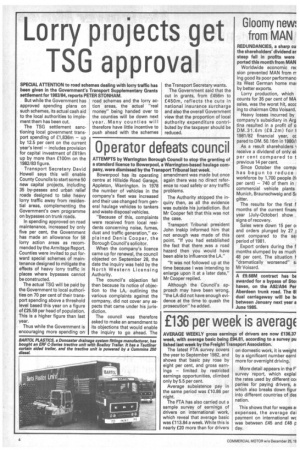 Page 4, 25th December 1982 —
Operator defeats council
Close
ATTEMPTS by Warrington Borough Council to stop the granting of a standard licence to Bowerpool, a Warrington-based haulage company, were dismissed by the Transport Tribunal last week.
Bowerpool has its operating centre at Hillside Road Garage, Appleton, Warrington. In 1978 the number of vehicles in the company's fleet was increased and their use changed from general haulage vehicles to tankers and waste disposal vehicles.
"Because of this, complaints were received from local residents concerning noise, fumes, dust and traffic generation," explained Denis Cooper, the Borough Council's solicitor.
When the company's licence came up for renewal, the council objected on September 28, the date the inquiry was held by the North Western Licensing Authority.
The council's objection fell then because its notice of objection to the LA, outlining the various complaints against the company, did not cover any aspects that came under his jurisdiction.
The council was therefore asked to make an amendment to its objections that would enable the inquiry to go ahead. The amendment was made but once again there was no direct reference to road safety or any traffic problems.
The Authority stopped the inquiry then, as all the evidence was outside his jurisdiction. But Mr Cooper felt that this was not the case.
Transport Tribunal president John lnskip informed him that not enough was made of this point. "If you had established the fact that there was a road hazard then you would have been able to influence the LA."
"It was not followed up at the time because I was intending to enlarge upon it at a later date," Mr Cooper replied.
Although the Council's approach may have been wrong, "the LA did not have enough evidence at the time to quash the prosecution" he added.