Carpet export flooring you?
25th December 1982
Page 34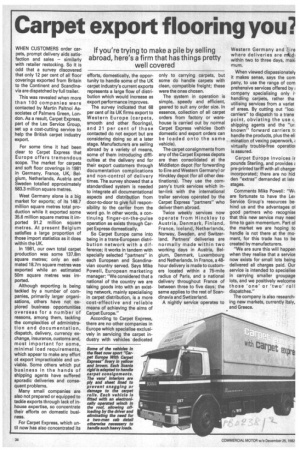 Page 34, 25th December 1982 —
Carpet export flooring you?
Close
If you're trying to make a pile by selling abroad, here's a firm that has things pretty well covered
WHEN CUSTOMERS order carpets, prompt delivery aids satisfaction and sales — similarly with retailer restocking. So it is odd that a survey discovered that only 12 per cent of all floor coverings exported from Britain to the Continent and Scandinavia are dispatched by full trailer.
This was revealed when more than 100 companies were contacted by Martin Paltnoi Associates of Palmers Green, London. As a result, Carpet Express, part of the Lex Service Group, set up a cost-cutting service to help the British carpet industry export.
For some time it had been clear to Carpet Express that Europe offers tremendous scope. The market for carpets and soft floor coverings in 1981 in Germany, France, UK, Belgium, Netherlands, Austria and Sweden totalled approximately 583.3 million square metres.
West Germany alone is a big market for exports; of its 148.7 million square metres total production while it exported some 35.6 million square metres it imported 91.2 million square metres. At present Belgium satisfies a large proportion of those import statistics as it does within the UK.
In 1981, our own total carpet production was some 137.8m square metres; only an estimated 18.7m square metres was exported while an estimated 50m square metres was imported.
Although exporting is being tackled by a number of companies, primarily larger organisations, others have not explored business opportunities overseas for a number of reasons, among them, tackling the complexities of administration and documentation, dispatch, delivery, currency exchange, insurance, customs and, most important for some, minimal load requirements, which appear to make any effort ot export impracticable and unviable. Some others which put business in the hands of shipping agents have suffered sporadic deliveries and consequent problems.
Many small companies are also not prepared or equipped to tackle exports through lack of inhouse expertise, so concentrate their efforts on domestic business. efforts, domestically, the opportunity to handle some of the UK carpet industry's current exports represents a large flow of distribution which would increase as export performance improves.
The survey indicated that 68 per cent of its UK firms export to Western Europe (carpets, smooth and other floorings), and 21 per cent of those contacted do not export but are considering doing so at a later stage. Manufacturers are selling abroad by a variety of means, some of them introducing difficulties at the delivery end for their export customers through documentation complications and non-control of delivery times. The survey showed that a standardised system is needed to integrate all documentational aspects and distribution from door-to-door to give full responsibility to the carrier from the word go. In other words, a continuing finger-on-the-pulse operation as exists through Carpet Express domestically.
So Carpet Europe came into being in a trans-European distribution network with a difference; it works in tandem with specially selected "partners" in each European and Scandinavian country served. Says Mike Powell, European marketing manager: "We considered that a national of the country we are taking goods into with an existing network, mainly specialising in carpet distribution, is a more cost-effective and reliable means of achieving the aims of Carpet Europe."
According to Carpet Express, there are no other companies in Europe which specialise exclusively in servicing the carpet industry with vehicles dedicated only to carrying carpets, but some do handle carpets with clean, compatible freight; these were the ones chosen.
The system in operation is simple, speedy and efficient, geared to suit any order size. In essence, collection of all carpet orders from factory or warehouse is carried out by normal Carpet Express vehicles (both domestic and export orders can be loaded onto the same vehicle).
The carpet consignments from any of the Carpet Express depots are then consolidated at the Middleton depot (for forwarding to Eire and Western Germany) or Hinckley depot (for all other destinations). They use the company's trunk services which inter-link with the international trailer services operated by the Carpet Express "partners" who deliver them abroad.
Twice weekly services now operate from Hinckley to Austria, Denmark, Finland, France, Iceland, Netherlands, Norway, Sweden, and Switzerland. Partners' deliveries are normally made within two working days in Austria, Belgium, Denmark, Luxembourg and Netherlands. In France, a 4.8hour delivery is made to customers located within a 75-mile radius of Paris, and a national delivery throughout France of between three to five days; the same applies to the rest of Scandinavia and Swtizerland.
A nightly service operates to Western Germany and sire where deliveries are mkdi within two to three days, maxi mum.
When viewed dispassionately it makes sense, says the corn pany, to use the range of corn prehensive services offered by company specialising only I* handling carpets, rather tha utilising services from a varlet of areas. By cutting out "loci carriers" to dispatch to a trans point, obviating the use t. shipping agents and the "ur. known" forward carriers tc handle the products, plus the eli mination of vexing paperwork, virtually trouble-free operatior is assured.
Carpet Europe invoices ir pounds Sterling, and provides E pre-printed tariff with all charge, incorporated; there are no hid den "extras" demanded at latE stages.
Comments Mike Powell: "W.., are fortunate to have the Ler Service Group's resources behind us and the advantages oi good partners who recognise that this new service may need time to gain momentum. Part of the market we are hoping to handle is not there at the moment, for this trade has to be created by manufacturers.
"We are sure this will happen when they realise that a service now exists for small lots being delivered all charges paid. Our service is intended to specialise in carrying smaller groupage lots, and we positively welcome those 'one' or 'two' roll dispatches."
The company is also researching new markets, currently Italy, and Greece.