For whom the hell, tolls?
25th December 1982
Page 18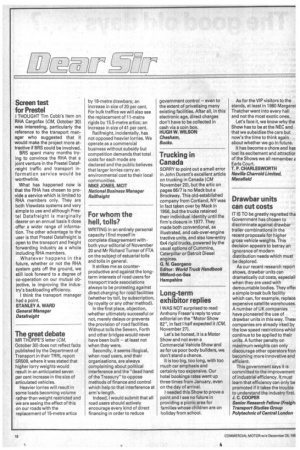 Page 18, 25th December 1982 —
For whom the hell, tolls?
Close
WRITING in an entirely personal capacity I find myself in complete disagreement withboth your editorial of November 20 and Mr Richard Turner of FTA on the subject of estuarial tolls and tolls in general.
It strikes me as counterproductive and against the longterm interests of road users for transport trade associations always to be protesting against direct charging for road facilities (whether by toll, by subscription, by royalty or any other method).
In the first place, objection, whether ultimately successful or not, merely delays or prevents the provision of road facilities. Without tolls the Severn, Forth and other bridges would never have been built — at least not when they were.
Secondly, it seems illogical, when road users, and their organisations, are always complaining about political interference and the "dead hand of the Treasury" to oppose methods of finance and control which help to that interference at arm's-length.
Indeed, I would submit that all road users should actively encourage every kind of direct financing in order to reduce • government control — even to the extent of privatising many existing facilities. After all, in this electronic age, direct charges don't have to be collected in cash via a coin box.
HUGH W. WILSON Chesham, Bucks.