Advertising on dustcarts?
25th December 1982
Page 12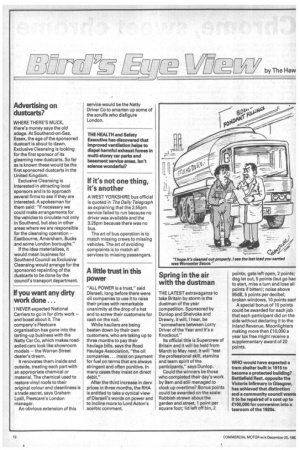 Page 12, 25th December 1982 —
Advertising on dustcarts?
Close
WHERE THERE'S MUCK, there's money says the old adage. At Southend-on-Sea, Essex, the age of the sponsored dustcart is about to dawn. Exclusive Cleansing is looking for the first sponsor of its gleaming new dustcarts. So far as is known these would be the first sponsored dustcarts in the United Kingdom.
Exclusive Cleansing is interested in attracting local sponsors and is to approach several firms to see if they are interested. A spokesman for them said: "If necessary we could make arrangements for the vehicles to circulate not only in Southend, but also in other areas where we are responsible for the cleansing operation — Eastbourne, Amersham, Bucks and some London boroughs."
If the idea materialises, it would mean business for Southend Council as Exclusive Cleansing would arrange for the sponsored repainting of the dustcarts to be done by the council's transport department.