TURNING ROYAL SIGNAL :RUITS INTO TRADESMEN
25th August 1944
Page 26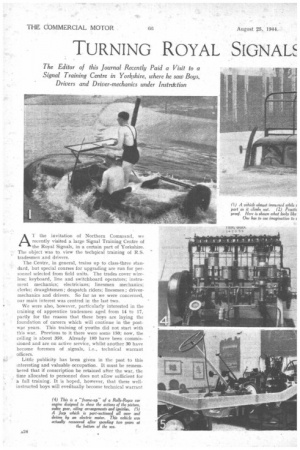 Page 27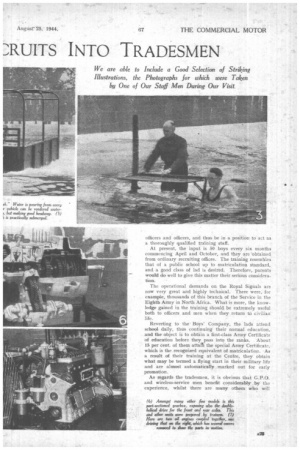 Page 28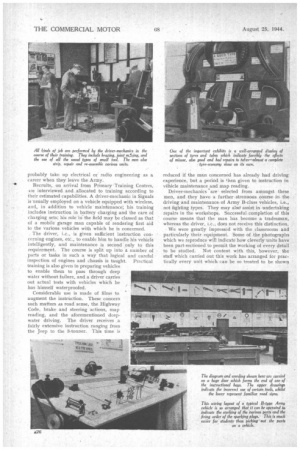 Page 29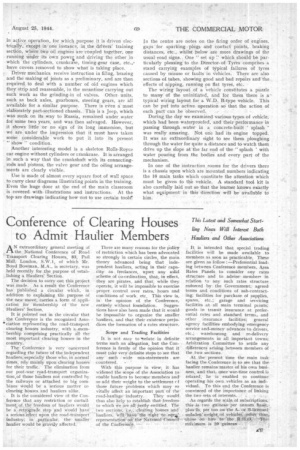 Page 26, 25th August 1944 —
TURNING ROYAL SIGNAL :RUITS INTO TRADESMEN
Close
The Editor of this Journal Recently Paid a Visit to a Signal Training Centre in Yorkshire, where he saw Boys, Drivers and Driver-mechanics under Instriktion
We are able to Include a Good Selection of Striking Illustrations, the Photographs for which were Taken by One of Our Staff Men During Our Visit AT the invitation of Northern Command, we recently visited a large Signal Training Centre of the Royal Signals, in a certain part of Yorkshire. The object was to view the techgical training of R.S. ' tradesmen and drivers.
The Centre, in general, trains up to class-three stan dard, but special courses for upgrading are run for personnel selected from field units. The trades cover wireless; keyboard, line and switchboard operators; instrument mechanics; electricians; linesmen mechanics; clerks; draughtsmen; despatch riders; linesmen; drivermechanics and drivers. So far as we were concerned, our main interest was centred in the last two.
• We were also, however, particularly interested in the training of apprentice tradesmen aged from 14 to 17, partly for the reason that these boys are laying the foundation of careers which will continue in the postwa.r years. This training of youths did not start with this war. Previous to it there were some 150; now, the ceiling is about 350. Already 180 have been commissioned and are on active service, whilst another 30 have become foremen of signals, i.e., technical warrant officers.
z,,1 Little publicity has been given in the past to this interesting and valuable occupation. It must be remembered that if conscription be retained after the war, the time allocated to personnel does not allow sufficient for a full training. It is hoped, however, that these well. instructed boys will eveitually become technical warrant officers and officers, and thus be in a position to act as a thoroughly qualified training staff.
At present, the input is 50 boys every six months commencing April and October, and they are 'obtained from ordinary recruiting offices. The training resembles that of a public school up to matriculation standard, mid a good class of lad is desired. Therefore, parents would do well to give this matter their serious consideration.
The operational demands on the Royal Signals are now very great and highly technical. There were, for example, thousands of this branch of the Service in the Eighth Army in North Africa. What is more, the knowledge gained in the training should be extremely useful both to officers and men when they return to civilian Reverting to the Boys Company, the lads attend school daily, thus continuing their normal education, and the object is to obtain a first-class Army Certificate of education before they pass into the ranks. About 15 per cent. of them attatt the special Army Certificate, which is the recognized equivalent of matriculation. As a result of their training at the Centre, they obtain what may be termed a flying start in their military life and are almost automatically marked out for early promotion.
As regards the tradesmen, it is obvious that G.P.O. and wireless-service men benefit considerably . by the experience, whilst there are many others who will
probably take up electrical or radio engineering as a career when they leave the Army.
Recruits, on arrival from Primary Training Centres, ire interviewed and allocated to training according to their estimated capabilitieS. A driver-mechanic in Signals is usually employed on a vehicle equipped with wireless, and, in addition to vehicle maintenance; his training includes instruction in battery charging and the care of charging sets; his role in the field may be classed as that of a mobile garage man capable of rendering first aid to the various vehicles with which he is concerned.
The driver, i.e., is given sufficient instruction concerning engines, etc., to enable him to handle his vehicle' intelligently, and maintenance is second only to this requirement. The course is split up into a number of parts or tasks in such a way that logical and careful inspection of engines and chassis is taught. Practical training is also given in preparing vehicles to enable them to pass through deep water without failure, and a driver carries out actual tests with vehicles which he has himself waterproofed.
Considerable use is made of films to augment the instruction. These concern such matters as road sense, the Highway Code, brake and steering actions, map reading, and the aforementioned deepwater driving. The driver receives a fairly extensive instruction ranging from the Jeep to the 3-tonner. This time reduced if the man concerned has already had driving experience, but a period is then given to instruction in vaicle maintenance and map reading.
Driver-mechanics are selected from amongst these men, and they have a further strenuous course in the driving and maintenance, of Army B-class vehicles, i.e., not fighting types. They may alscr assist in undertaking repairs in the workshops. Successful completion of this course means that the man has become a tradesman, whereas the driver, i.e.; does not receive this distinction_ We were greatly impressed with the classrooms and particularly their equipment. Some of the photographs which we reproduce will indicate how cleverly units have been part-sectioned to permit the working of every detail to be studied. Not content with this, however, the staff which carried out this work has arranged for practically every unit which can be so treated to be shown
in active operation, for which purpose it is driven electrically, except in one instance, in.the drivers' training section, where two oil engines are coupled together, one running under its own pow% and driving the other in which the cylinders, crankcase, timing-gear case, etc.,. have covers removed to show what is taking place.
Driver mechanics receive instruction in filing, brazing and the making of joints as a preliminary, and are then required to deal with a number of old engines which they strip and reassemble, in the meantime carrying out such work as the grinding-in of valves. Other. units, such as back axles, gearboxes, steering gears, are all available for a similar purpose. There is even a most elaborately part-sectioned chassis. This is a Jeep, which was sunk on its way to Russia, remained under water for some two years, and was then salvaged. However, it shows little or no sign of its long immersion, but we are under the impression that it must have taken some considerable work to put it into its present "show " condition.
Another interesting model is a skeleton Rolls-Royce car engine without cylinders or crankcase. It is arranged in such a way that the crankshaft with its connectingrods and pistons, the valve gear and the oiling arrangements are clearly visible.
Use is made of almost every square foot of wall space to carry clear diagrams illustrating points in the training. Even the huge door at the end of the main classroom is covered with illustrations and instructions. At the top are drawings indicating how not to use certain tools In the centre are notes on the firing order of engines. gaps for sparking plugs and contact points, braking distances, etc., whilst below are more drawings of the usual road signs. One " set up " which should be particularly pleasing to the Director-of Tyres comprises a stand carrying examples of typical failures of tyres caused by misuse or faults in Vehicles. There are also sections of tubes, showing good and bad repairs and the effects of nipping, running on flat tyres, etc.
The wiring layout of a vehicle constitutes a puzzle to many of the uninitiated, and for them there is atypical wiring layout for a W.D. B-type vehicle. This can be put into active operation so that the action of each part can be observed.
During the day we examined various types of vehicle, which had been waterproofed, and their performance in passing through water in a concrete-built splash ' was really amazing. Not one had its engine topped. It was an extraordinary sight to see them ploughing through the water for quite a distance and to watch them drive up the slope at the far end of the "splash ' with water poucing from the bodies and every part of the mechanism.
In one of the instruction rooms for the drivers there is a chassis upon which are mounted numbers indicating the 16 main tasks which constitute the attention which must be given to the vehicle. A standard tool kit is also carefully laid out so that the learner knows exactly what equipmentin this direction will be available to him.