One Hears—
25th August 1944
Page 17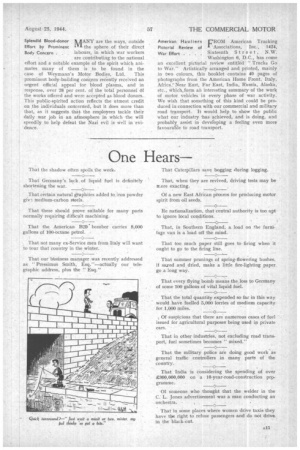 Page 17, 25th August 1944 —
One Hears—
Close
That the shadow often spoils the work.
That Germany's lack of liquid fuel is definitely shortening the war.
That certain natural graphites added to. iron powder giv-i medium-carbon steels.
That these should prove suitable for many parts normally requiring difficult machining.
That the American B29' bomber carries 8,000 gallons of 100-octane petrol.
That not many ex-Service men from Italy will want to tour that country in the winter.
That our business manager was recently addressed as "Pressimus Smith, Esq,"—actually our tele;.;raphic address, plus the " Esq." That Caterpillars save bogging during logging.
That, when they are revived, driving tests may be
more exacting. •0
Of a new East African process for producing motor spirit from oil seeds.
Re nationalization, that central authority is too apt to ignore local conditions.
That, in Southern England, a load on 'he furnittkre van is a load off the mind.
That .too much paper still goes to firing when it ought to go to the firing fine.
That summer prunings of spring-flowering bushes, if saved and dried, make a little fire-lighting paper go a long way.
That every flying bomb means the loss to Germany of some 100 gallons of vital liquid fuel.
That the total quantity expended so far in this way would have fuelled 5,000 lorries of medium capacity for 1,000 miles.
Of suspicions that there are numerous cases of fuel issued for agricultural purposes being used in private
Cars.
That in other industries, not excluding road transport, fuel sometimes becomes "mixed."
That the military police are doing good work as general traffic controllers in many parts of the country.
That India is considering the spending of over £300,000,000 on a 10-year-road-construction prpgra.mme.
Of someone who thought that the welder in the C; L. Jones advertisement was a man conducting an orchestra. '
That in some places where women drive taxis they have tire right to refuse passengers and do not drive in the black-out.