Warning to Prospective Hauliers
25th August 1944
Page 15
Page 16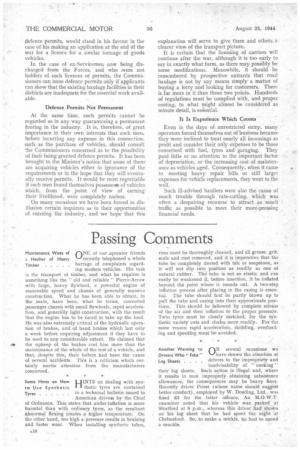 Page 15, 25th August 1944 —
Warning to Prospective Hauliers
Close
ACONSIDERABLE proportion of our correspondence, is with Servicemen and others who • express a desire to enter the road-haulage field, either now or as soon as possible after hostilities have concluded.
One or two bodies interested in obtaining employment, particularly for ex-Servicemen, are apparently' looking to this form of business as a promising one for their members.
Admittedly, it provides work for many thousands of people, and if even a part of the sugges tions now being put forward in connection with reconstruction, house building, motorways, and the opening up of the country to industry comes to fruition, there is little doubt that the volume of labour required for road "transport will be greatly increased from its present figure.
There is, however, this difficulty. Most of the inquirers wish to engage in the business as employers—in other words, they desire to purchase one or more vehicles to run in competition with those hauliers already engaged in this class of work. Some of them may have heard exaggerated stories of the successes of this kind attained by many of those who commenced to operate soon after the conclusion of the war of 1914-18. At that time, however, road haulage was, comparatively, in its infancy and was not regulated nearly so strictly as it is to-day and will probably be in the future.
Little Opportunity for Newcomers To a very large extent, the haulage industry is what may be termed a closed one in respect of. mastermen. This has dated from the time that the Road and Rail Traffic Act of 1933 was brought into active' operation. Those already running vehicles for hire or reward were in a reasonably fortunate position, as they obtained the necessary licences on what was termed a claimed-tonnage basis, that is to say, the tonnages they were operating during a certain period before the date of the Act. Even they, however, had to furnish proof of the need for their services when the time came for the renewal of their A or B licences. This meant appearing before Traffic Courts presided over by what were at that time known as Regional Traffic Commissioners. This usually involved obtaining the assistance of lawyers, as, in many instances, objections to their claims were made by the railway companies and occasionally by rival operators.
When it came to a haulier asking for permission to increase Ins tonnage, the difficulties put in his way were evengreater, and he had to bring forward adequate evidence as to the need for such increase.
At the moment, the pre-war system of licensing is in abeyance, and where a Regional Transport Commissioner considers that the services of a would-be haulier are desirable and necessary, the latter is issued with a defence permit covering a limited period. It has now been officially pointed out that, whilst the Minister of War Transport desires to assist ex-Servicemen so far as possible, the licensing authorities can admit newcomers or grant licences for additional vehicles to existing holders only if there be 'evidence of a public need for the extra transport facilities.
Present Principles of Licensing It must be remembered also that such permits are current for only the war period and for so long during it as there is a need for the transport which they authorize. In deciding applications for them, the Commissioners must have regard to the principles of the pre-war licensing system, both because the provision of unnecessary transport would be detrimental to the war effort, and in fairness to existing hauliers and to those who have joined the Forces and will wish to resnnie their haulage businesses following their discharge.
The Commissioners are taking into consideration, in the case of applications received now from ex-Servicemen who were hauliers before joining the Forces, the circumstances in which they surrendered their carriers' licences or defence permits owing to war conditions. The Minister obviously cannot bind the Commissioners, but he has expressed the view that, subject to the circumstances existireg at the end of the war, the fact that a person had been the holder of a carrier's licence in respect of a certain tonnage of Vehicles at the outset of the war,,, and had not disposed of his business by sale, but surrendered his' licences or defence permits, would stand in his favour in the case of his making an application at the end of the war for a licence for a similar tonnage of goods vehicles.
In the case of ex-Servicemen now being discharged from the Forces, and who .were not holders of such licences or permits, the Commissioners can issue defence permits only if applicants can show that the existing haulage facilities in their districts are inadequate for the.essential work available.
Defence Permits Not Permanent At the same time, such permits cannot be regarded as in any way guaranteeing a permanent footing in the industry. It is, therefore, of great importance in their own interests that such men, before incurring any expense in this connection, such as the purchase of vehicles, should consult the Commissioners concerned as to the possibility of their being granted defence permits. It has been brought to the Minister's notice that some of them. are acquiring vehicles either in ignorance of the requirements or in the hope that they will eventually receive permits. It would be most regrettable if such men found themselves possessors of vehicles which, . from the point of view of earning their livelihood, were completely useless.
On many occasions we have been forced to disillusion certain inquirers as to their opportunities of entering the industry, and we hope that this explanation Will serve to give them and others_a clearer view of the transport picture.
It is certain that the licensing of carriers will continue after the war,. although it is too early to say in exactly what form, as there may possibly be some modifications. Meanwhile, it should be remembered by prospective entrants that road haulage is not by any means simply a matter of buying a lorry and looking for customers. There is far more in it than those two points. Hundreds of regulations must be complied with, and proper costing, to what might almost be considered as minute detail, is esgential.
It Is Experience Which Counts Even in the days of unrestricted entry, niany operators forced themselves out of business because they were inclined to treat nearly all incomings as profit and consider their only expenses to be those concerned with fuel, tyres and garaging. They paid little or no attention to the important factor of depreciation, or the increasing cost of maintenance as vehicles aged. Consequently, when it came to meeting heavy repair bills or still larger expenses for vehicle replacements, they went to the wall.
Such ill-advised hauliers were also the cause of much trouble through . rate-cutting, which was often a despairing recourse to attract as much traffic as possible to meet their more-pressing financial needs.