WH MALCOLM: PAISLEY, SCOTLAND
25th April 1991
Page 53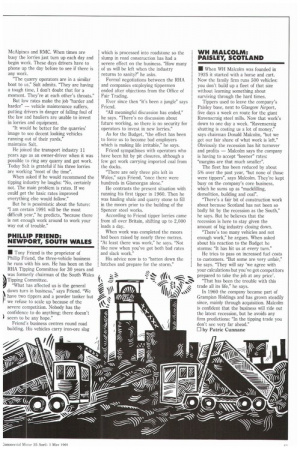 Page 53, 25th April 1991 —
WH MALCOLM: PAISLEY, SCOTLAND
Close
• When WH Malcolm was founded in 1925 it started with a horse and cart. Now the family firm runs 500 vehicles: you don't build up a fleet of that size without learning something about surviving through the hard times.
Tippers used to leave the company's Paisley base, next to Glasgow Airport, five days a week en route for the giant Ravenscraig steel mills. Now that work's down to one day a week. "Ravenscraig shutting is costing us a lot of money," says chairman Donald Malcolm, "but we get our fair share of what work is left" Obviously the recession has hit turnover and profits — Malcolm says the company is having to accept "keener" rates: "margins are that much smaller".
The fleet has been reduced by about 5% over the past year, "but none of those were tippers", says Malcolm. They're kept busy on the company's core business, which he sums up as "muckfilling, demolition, building and coal".
"There's a fair bit of construction work about because Scotland has not been so badly hit by the recession as the South," he says. But he believes that the recession is here to stay given the amount of big industry closing down.
"There's too many vehicles and not enough work," he argues. When asked about his reaction to the Budget he storms: "It has hit us at every turn."
He tries to pass on increased fuel costs to customers. "But some are very unfair," he says. "They will say 'we agree with your calculations but you've got competitors prepared to take the job at any price'.
"That has been the trouble with this trade all its life," he says.
In 1960 the company became part of Grampian Holdings and has grown steadily since, mainly through acquisition. Malcolm is confident that the business will ride out the latest recession, but he avoids any firm predictions: "In the tipping trade you don't see very far ahead."
1:1 by Patric Cunnane