PARKING PLANS FOR VISITING COACHES.
25th April 1922
Page 19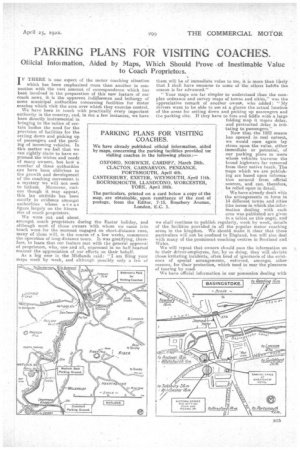 Page 20
Page 19, 25th April 1922 —
PARKING PLANS FOR VISITING COACHES.
Close
Official Infm mation, Aided by Maps, Which Should Prove of Inestimable Value to Coach Proprietols. .
F THERE is one aspect of the motor coaching situation
which has been emphasized more than another in connection with the vast amount of correspondence which has been involved in the preparation of this new feature of our coach news, it is the apparent indifference and lethargy of some municipal authorities concerning facilities for motor coaches which visit the area over which they exercise control. We have been in touch with practically every important authority in the country; and, in not a few instances, we have been directly instrumental in bringing to the notice of certain bodies the need for the provision of facilities for the setting down and picking up of passengers and the parking of incoming vehicles. In this matter we feel that we can rightly claim to have expressed. the wishes and needs of many owners, but how a number of these authorities can have been oblivious to the growth and development of the coaching movement is a mystery we will not seek to fathom. Moreover, curious though it may appear, this lax attitude has been mostly in evidence amongst authorities whose a e as figure largely on the itinera ties of coach proprietors.
We were out and about. amongst coach proprietors during the Easter holiday, and although most of those owners with whom we came into touch were for the moment engaged on short-distance runs, many of them will, in the course of a few weeks, commence the operation of long-distance tours. It was gratifying, therefore, to learn that. our feature met with the general approval of proprietors, who, one and all, expressed in no half-hearted manner the appreciation of our efforts on their behalf.
As a big user in the Midlands said: "I am filing your maps week by week, and although possibly only a few of
them will be of immediate value to me, it is more than likely that I shall have recourse to some of the others befote the season is far advanced."
" Your maps are far simpler to understand than the complex ordnance and survey maps of towns and cities," was the appreciative remark of another owner, who added: "My drivers want to be able to see at a glance the actual location of the areas for setting down and picking up passengers and the parking site. If they have to fuss and fiddle with a large folding map it merlins delay, and protracted delay is irritating to passengers."
Now that the 1922 season has opened in real earnest, we would once again lay stress upon the value, either immediate or potential, of our parking plans to users whose vehicles traverse the broad highways far removed from their native heath. The maps which we are publishing are based upon information secured from official sources and can. therefore, be relied ' d -upon in detail.
We have already dealt with the arrangements in force in 14 different towns and cities (the issues in which the information dealing with each area was published are given in a tablet on this page}, an& we shall continue to publish regularly, week by week, details of the facilities provided in all the popular motor coaching areas in the kingdom. We should make it clear that these particulars will not be confined to Eligland, but will also deal with many of the, prominent coaching centres in Scotland and Wales.
We will repeat that owners should pass the information on to their driver-employees, for, by so doing, they will obviate those irritating incidents, often bred of ignorance of the existcoca of special arrangements, enforced, amongst other reasons, for their protection, which tend to mar the pleasures of touring by road. We have Official information in our possession dealing with the facilities provided in most of these places for the reception of visiting coaches, and we will, as already intimated, gladly forward through the post particulars concerning any town or city to any coach owner who applies to the Editor, upon remittance of the cost of postage. Many owners and drivers have already availed themselves of their servicea.
Below we deal with the regulations which are in force at Basingstoke, Penrith and Matlock; the map of the last-named place also embraces details of arrangements in force at Matlock Bath and Cromford.
BASINGSTOKE.—As in former years, incoming motor chars-hbans will be permitted to use Vittoria Street for the picking up and setting down of passencrers. If vehicles are required to be parked for the night, or for several hours, there is a large yard at the Wheatsheaf Hotel (hard-by Victoria Street), which is often used for the purpose and for which a small charge is made.
PENRITTL—So4ar as the urban district of Penrith is concerned, the place set apart for the parking of coaches is Great Dockray. This is a large open space situated practically in the centre of the town and permits of easy approach from any direction.
Man.ocx.—Ample accommodation can be found for incoming motor coaches on a piece of ground located in Bakewell Road, which is known as Bateman's Park, and for which a charge of 2s. per vehicle is made. At Matlock Bath 50 motor coaches can at present. be housed in the grounds near the Pavilion, and further accommodation is being provided. A charge of 2s. per motor coach is made. At Cromford, which is slightly south of Matlock Bath, the market-place is used for parking motor coaches on busy days, and at this site is. is charged per vehicle. Reprints of each of the maps we have published, with the accompanying particulars concerning parking arrangements for coaches printed below each, can be obtained on application to the Editor.