One Hears
25th April 1912
Page 3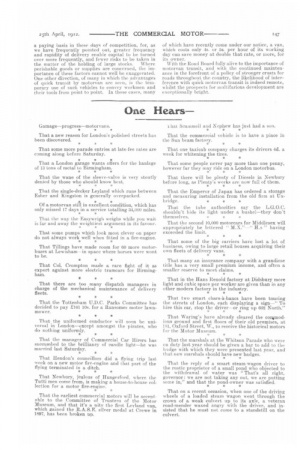 Page 3, 25th April 1912 —
One Hears
Close
amage—progress—motorv a n s.
That a, new reason for London's polished streets has been discovered.
That some more parade entries at late-fee rates are corning along before Saturday.
That a London garage wants offers for the haulage of 13 tons of metal to Birmingham.
That the wane of the sleeve-valve is very stoutly denied by those who should know best That the single-decker Leyland which runs between Esher and Kingston is generally overpacked.
Of a motorvan still in excellent condition, which has only missed 17 days in a service totalling 34,000 miles.
That the way the Eassyweigh weighs while you wait is far arid away the weightiest. argnment in its favour.
That some pumps which look most clever on paper do not always work well when fitted in a fire-engine.
That Tillings have made room for 60 more motorbuses at Lewisham--in space where horses were wont to be.
That Col. Crompton made a rare fight of it as expert against more electric tramcars for Birmingham.
That there are too many dispatch managers in charge of the mechanical maintenance of delivery fleets.
That the Tottenham U.D.0 Parks Committee has decided to pay 2161 10s. for a Ransomes motor lawnmower.
That the uniformed conductor will soon be universal in London—except amongst the pirates, who do nothing uniformly.
That the manager of Commercial Car Hirers has succumbed to the brilliancy of candle light—he was married last Saturday.
That Hendon's councillors did a, flying trip last week on a new motor fire-engine and that part of the flying terminated in a ditch.
That Newbury. jealous of Hungerford, where the Tutti men come from, is making a, house-to-house collection for a motor fire-engine.
That the earliest commercial motors will he acceptable to the Committee of Trustees of the Motor Museum, and that it's a pity -the first Leyland van, which gained the .R.A.S.E. silver medal at Crewe in 1897, has been broken up.
hat Scammeir and Nephew has just had a son.
That the commercial vehicle is to have a place in the Sun beam factory.
That one taxicab company charges its drivers 4d, a week for whitening the tires.
That some people never pay more than one penny, however far they may ride on a London motorbus, That there will be plenty of Diesels in Newbury before long, as Plenty's works are now full of them.
That the Emperor of Japan has ordered a storage and measuring installation from the old film at Uxbridge.
That the tube authorities say the L.G.O.C. shouldn't hide its light under a bushel—they don't themselves.
That the second 10,000 motorcars for Middlesex will appropriately be lettered " M.X."—" ll.s" having exceeded the limit.
That some of the big carriers have lost a lot of business, owing to large retail houses acquiring their own fleets of delivery vans.
That many an insurance company with a grandiose title has a very small premium income, and often a smaller reserve to meet claims.
That in the Hans Renold factory at Didsbury more light and cubic space per worker are given than in any other modern factory in the industry.
That two smart, chars-a-bancs have been touring the streets of London, each displaying a sign—" To hire this car, stop the driver--or ring up 662 North."
That Waring's have already cleared the consoledions ground and first floors of their old premises, at 181, Oxford Street, W., to receive the historical motors for the Motor Museum.
That the marshals at the Whitsun Parade who were on duty last year should be given a bar to add to time badge with which they were presented last year, and that new marshals should have new badges.
That the reply of a smart steam-wagon driver to the rustic proprietor of a small pond who objected to the withdrawal of water was "That's all right, governor : we are not taking any out, we are putting some in," and that the pond-owner was satisfied.
That on a recent occasion, when one of the driving wheels of a loaded steam wagon went through the crown of a. weak culvert up to its axle, a veteran road-mender waxed angry with the driver, and insisted that he must not come to a standstill on the culvert.