STEAM OR PETROL FOR 51-TON LOADS?
25th April 1912
Page 18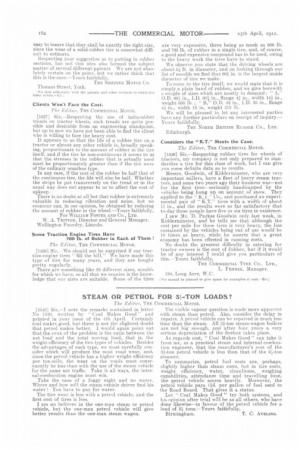 Page 18, 25th April 1912 —
STEAM OR PETROL FOR 51-TON LOADS?
Close
The Editor, THE COMMERCIAL MOTOR.
115401 Sir,—I note the remarks contained in letter No 1520, written by " Coal Makes Good" and printed in your issue of the 4th April. Certainly coal makes good, but there is not the slightest doubt that petrol makes better. I would again point out that the crux of the problem is the ratio between the net load and the total moving load, that is, the weight efficiency of the two types of vehicles. Besides the advantages of each type, we must carefully consider which will produce the most road wear, and, since the petrol vehicle has a higher weight efficiency per ton-mile, the wear on the roads must consequently be less than with the use of the steam vehicle for the same net traffic. Take it all ways, the internal-combustion engine must win.
Take the case of a foggy night and no water. Where and how will the steam-vehicle driver find his water You have to pay for water.
The tire wear is less with a petrol vehicle, and the first cost of tires is less.
I am no believer in the one-man steam or petrol vehicle, but the one-man petrol vehicle will give better results than the one-man steam wagon.
The visible vapour question is made more apparent with steam than petrol. Also, consider the delay in repairs. A petrol vehicle can be repaired in much less time than the steam. All 3i-ton steam-wagon boilers are not big enough, and after four years Ft very serious depreciation of the firebox takes place.
As regards cost, " Coal Makes Good" can take it from me, as a practical steam and internal-combustion engineer, that the manufacturer's cost of the 3l-ton petrol vehicle is less than that of the *ton steamer.
To summarize, petrol fuel costs are, perhaps, slightly higher than steam costs, hut in tire costs, weight efficiency, water, cleanliness, weighing capabilities, attendance time and travelling time, the petrol vehicle scores heavily. Moreover, the petrol vehicle pays lid. per gallon of fuel used to the Road Board. That gives it a status.
Let "Coal Makes Good" try both systems, and his opinion after trial will he as all others, who have done likewise—in favour of the petrol vehicle for a load of 3i tons.—Yours faithfully,
Birmingham. T. C. AVELING.