C.M.U.A. Proceedings.
25th April 1912
Page 13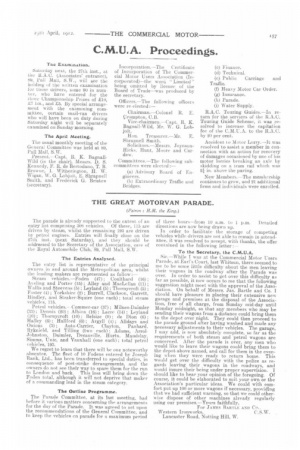 Page 13, 25th April 1912 —
C.M.U.A. Proceedings.
Close
Toe Examination.
Saturday next, the 27th inst., at the it. A. U. (Associates' entrance), so, Pall Mall, S. W., will see the holding of the written examination for those drivers, some 90 in number, who have entered for the ihree Championship Prizes of £10, £7 los., and £5. By special arrangemeut with the examining committee, certain mail-van drivers who will have been on duty during Saturday night will be separately examined on Sunday morning.
The April Meeting.
The usual monthly meeting of the General Committee was held at 80, Pall Mall, S.W.
Present.—Capt. R. K. BagnallWild (in the chair), Messrs. D. S. Kennedy, F. R. de Bertodano, T. B. Browne, 1. Witiserington, H. W. Wigan, W. G. Lobjoit, E. Shrapnell Smith, and Frederick G. Bristow (secretary). Incorporation. •-The Certificate of Incorporation of The Commercial Motor Users Association (Incorporated)—the word " Limited" being omitted by licence of the Board of Trade—was produced by the secretary.
Officers.—The following officers were re-elected :— Chairman.—Colonel R. E. crompton, C,B, Viee-chairmen.—Capt. R, K. Bagnall-Wild, Mr. W. G, Lobjolt.
Solicitors.—Messrs. Hicks, Hunt, Moore dew. joynsonand Car Committees.—The following subcommittees were elected :— (a) Advisory Board of Engineers.
(b) Extraordinary Traffic and Bridges. (e) Finance, (d) Technical.
(e) Public Carriage and Traffic.
(f) Heavy Motor Car Order.
(g) Insurance.
(h) Parade.
(i) Water Supply.
R.A.C. Touring Guides.—In return for the services of the R.A.C. Touring Guide Scheme, it was resolved to increase the capitation fee of the C.M.C.A. to the R.A.C. by 20 per cent.
Accident to Motor Lorry.—It was resolved to assist a member in connection with an action for recovery of damages occasioned by one of his motor lorries breaking an axle by skidding on a tram rail which was 21 in. above the paving.
New Members.—The membership continues to grow, and 21 additional firms and individuals were enrolled.