Some ingenious calculations as to carburetter superiority are demonstrated by
25th April 1912
Page 12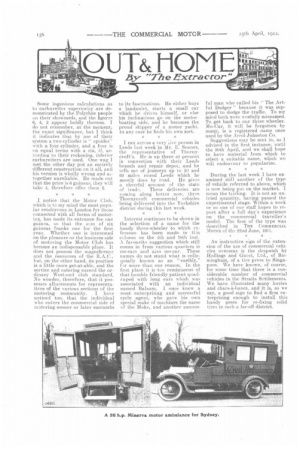 Page 12, 25th April 1912 —
Some ingenious calculations as to carburetter superiority are demonstrated by
Close
the Polyrhoe people on their shovvcards, and the figures 6, 4, 2 appear boldly thereon. I do not remember, at the moment, the exact significance, but I think it indicates that by use of their system a two-cylinder is " upsides" with a four-cylinder, and a four is on equal terms with a six, if, according to their reckoning. inferior carburetters are used. One wag I met the other day pot an entirely different construction on it all, and his version is wholly wrong and a.together unreliable. He made out that the price is 6 guineas, they will take 4, therefore offer them 2.
I notice that the Motor Club, which is to my mind the most popular rendezvous in London for those connected with all forms of motoring, has made its entrance fee one guinea, so that the Sum of six guineas franks one for the first year. Whether one is interested on the pleasure or the business side of motoring the Motor Club has become an Indispensable place. It does not possess the magnificence and the resources of the R.A.C., but, on the other hand, its position is a little more get-at-able, and the service and catering exceed the ordinary West-end club standard. No wonder, therefore, that it possesses allurements for representatives of the various sections of the motoring community. I have noticed too, that the individual who enters the commercial side of motoring sooner or later succumbs
to its fascinations. He either buys a landaulet, starts a small ear which he drives himself, or else his inclinations go on the motorboating side, and he becomes the proud skipper of a motor yacht. In any case he finch, his own sort.
I ran across a very live person in Leeds last week in Mr. E. Soanes, the representative of Thornycroft's. He is up there at present in connection with their Leeds branch and repair depot, and he tells me of journeys up to 50 and 60 miles round _Leeds which he
mostly does by road. He gives a cheerful account. of the state of trade. These deliveries are coming along better now, three Thorn ycrof t commercial vehicles being delivered into the Yorkshire district during this last week.
Interest continues to be shown in the selection of a name for the handy three-wheeler to which reference has been made in this column on the 4th and 18th inst.
favourite suggestion which still comes in from various quarters is mo-cart, and also mo-car. These names do not stand what is colloquially known as an "earthly," for more than one reason. In the first place it is too reminiscent of that humble friendly patient quadruped with long ears which was associated with an individual named Balaam. 1 once knew a most enterprising and successful cycle agent, who gave his own special make of machines the name of the Moke, and another success ful man who called his " The Artful Dodger" because it was supposed to dodge the traffic. To my mind both were woefully misnamed. To get back to our three wheeler. Mo-Gar: it will be forgotten by many, is a registered name once used by the Arrol-Johnston Co.
Suggestions may be sent in, as I advised in the first instance, until the 30th April, and we shall hope to have material from which to select a suitable name, which we will endeavour to popularize.
During the last week I have examined still another of the type of vehicle referred to above, which is now being put on the market. I mean the Uirling. It is not an untried quantity, having passed the experimental stage. Within a week or so one of our staff hopes to report after a full day's experience on the commercial traveller's model. The first of the type was described in THE COMMERCIAL MOTOE of the 22nd June, 1911.
An instructive sign of the extension of the use of commercial vehicles overseas is the despatch by Hollings and Guest, Ltd., of Birmingham, of a tire press to Singapore. We have known, of course, for some time that there is a considerable number of commercial vehicles in the Straits Settlements. We have illustrated many lorries and chars-à-banes, and it is, as we say, a rood sign to find a firm enterprising enough to install this bandy press for re-fixing solid tires in such a far-off district.