profit from learning
24th September 1971
Page 62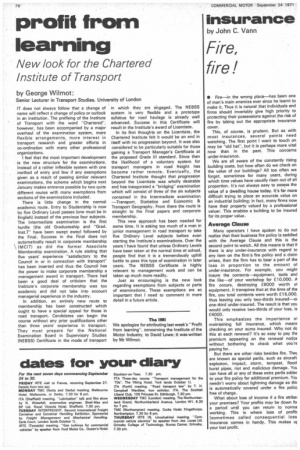 Page 62, 24th September 1971 —
profit from learning
Close
New look for the Chartered Institute of Transport
by George Wilmot;
Senior Lecturer in Transport Studies. University of London
IT does not always follow that a change of name will reflect a change of policy or outlook in an institution. The prefixing of the Institute of Transport with the word "Chartered-, however, has been accompanied by a major overhaul of the examination system, more flexible arrangements, more interest in transport research and greater efforts in co-ordination with many other professional organizations.
I feel that the most important development is the new structure for the examinations. Instead of a rather inflexible system with one method of entry and few if any exemptions given as a result of passing similar relevant examinations, the scheme which begins next January makes entrance possible by two quite different routes with many exemptions from sections of the examinations included.
There is little change in the normal academic route. Entry to Studentship is now by five Ordinary Level passes (one must be in English) instead of the previous four subjects. The Intermediate examination is the first hurdle (the old Gracluateship and "Grad. Inst.T" have been swept away) followed by the Final. Success in the Final does not automatically result in corporate membership (MCIT) as did the former Associate Membership examination. A rule stating that five years' experience "satisfactory to the Council in or in connection with transport" has been inserted and thus. the Council has the power to make corporate membership a management award in transport. There had been a good deal of criticism that the Institute's corporate membership was too academic and did not take into account managerial experience in the industry.
In addition, an entirely new route to membership has been constructed which ought to have a special appeal for those in road transport. Candidates can begin the course without any prior qualifications other than three years' experience in transport. They must prepare for the National Examination Board in Supervisory Studies (NEBSS) Certificate in the mode of transport in which they are engaged. The NEBSS system is very flexible and a prototype syllabus for road haulage is already well advanced. Success in this Certificate will result in the Institute's award of Licentiate.
In its first thoughts on the Licentiate, the Chartered Institute felt it would be an end in itself with no progression beyond. It was also considered to be particularly suitable for those gaining a Transport Manager's Certificate at the proposed Grade III standard. Since then the likelihood of a voluntary system for transport managers in road freight has become rather remote. Eventually, the Chartered Institute thought that progression beyond the Licentiate was wholly desirable and has inaugurated a "bridging" examination which will consist of three of the six subjects contained in the Intermediate examination —Transport, Statistics and Economic & Transport Geography. From there the route is straight to the Final papers and corporate membership.
This new approach has been needed for some time. It is asking too much of a man in junior management in road transport to take five Ordinary Level subjects before even starting the Institute's examinations. Over the years I have found that unless Ordinary Levels have been taken at the normal time at school, people find that it is a tremendously uphill battle to pass this type of examination in later years. The NEBSS Certificate is highly relevant to management work and can be taken up much more readily.
Just as encouraging is the new look regarding exemptions from subjects or parts of examinations. These exemptions are so important that I need to comment in more detail in a future article.