know the law
24th September 1971
Page 61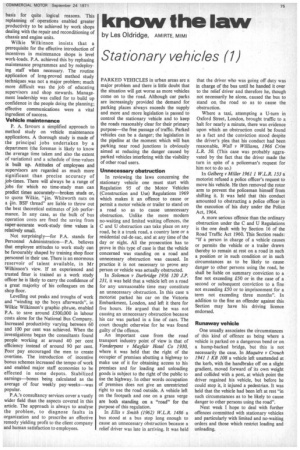 Page 61, 24th September 1971 —
know the law
Close
by Les Oldridge, AMIRTE, MIMI
Stationary vehicles (1)
PARKED VEHICLES in urban areas are a major problem and there is little doubt that the situation will get worse as more vehicles come on to the road. Although car parks are increasingly provided the demand for parking places always exceeds the supply and more and more legislation is passed to control the stationary vehicle and to keep the roads reasonably clear for their primary purpose—the free passage of traffic. Parked vehicles can be a danger; the legislation in the pipeline at the moment which will ban parking near road junctions is obviously aimed at reducing the danger caused by parked vehicles interfering with the visibility of other road users.
Unnecessary obstruction In reviewing the laws concerning the stationary vehicle one must start with Regulation 95 of the Motor Vehicles (Construction and Use) Regulations 1969 which makes it an offence to cause or permit a motor vehicle or trailer to stand on a road so as to cause unnecessary obstruction. Unlike the more modern no-waiting and limited waiting offences, the C and U obstruction can take place on any road, be it a trunk road, a country lane or a residential cul-de-sac, and at any time of the day or night. All the prosecution has to prove in this type of case is that the vehicle concerned was standing on a road and unnecessary obstruction was caused. In practice it is not necessary to prove any person or vehicle was actually obstructed.
In Solomon v Durbridge 1956 120 J.P. 237, it was held that a vehicle left on a road for any unreasonable time may constitute an unnecessary obstruction. In this case a motorist parked his car on the Victoria Embankment, London, and left it there for five hours. He argued that he was not causing an unnecessary obstruction because his car was parked in a line of cars. The court thought otherwise for he was found guilty of the offence.
An important case from the road transport industry point of view is that of Vanderpant v Mayfair Hotel Co 1930, where it was held that the right of the occupier of premises abutting a highway to make use of it for obtaining access to his premises and for loading and unloading goods is subject to the right of the public to Use the highway. In other words occupation of premises does not give an unrestricted right to use the road outside. A vehicle left on the footpath and one on a grass verge are both standing on a "road" for the purpose of this regulation.
In Ellis v Smith (1962) W.L.R. 1486 a bus stood at a bus stop long enough to cause an unnecessary obstruction because a relief driver was late in arriving. It was held that the driver who was going off duty was in charge of the bus until he handed it over to the relief driver and therefore he, though not necessarily he alone, caused the bus to stand on the road so as to cause the obstruction.
Where a taxi, attempting a U-turn in Oxford Street, London, brought traffic to a halt for nearly a minute, there was evidence upon which an obstruction could be found as a fact and the conviction stood despite the driver's plea that his conduct had been reasonable, Wall v Williams, 1966 Grim L.R. 50. (This case was probably aggravated by the fact that the driver made the turn in spite of a policeman's request for him not to do so.) In Gelberg v Miller 1961 1 W.L.R. 153 a motorist refused a police officer's request to move his vehicle. He then removed the rotor arm to prevent the policeman himself from shifting it. It was held that this conduct amounted to obstructing a police officer in the execution of his duty under the Police Act, 1964.
A more serious offence than the ordinary obstruction under the C and U Regulations is the one dealt with by Section 16 of the Road Traffic Act 1960. This Section reads: "If a person in charge of a vehicle causes or permits the vehicle or a trailer drawn thereby to remain at rest on a road in such a position or in such condition or in such circumstances as to be likely to cause danger to other persons using the road, he shall be liable on summary conviction to a fine not exceeding £50 or in the case of a second or subsequent conviction to a fine not exceeding £50 or to imprisonment for a term not exceeding three months". In addition to the fine an offender against this Section may have his driving licence endorsed.
Runaway vehicle
One usually associates the circumstances of this kind of offence as being where a vehicle is parked on a dangerous bend or on a hump-backed bridge, but this is not necessarily the case. In Maguire v Crouch 1941 1 KB 108 a vehicle left unattended at the kerb, with the handbrake off on a slight gradient, moved forward of its own weight and collided with a post, at which point the driver regained his vehicle, but before he could stop it, it injured a pedestrian. It was held that the vehicle had been left at rest "in such circumstances as to be likely to cause danger to other persons using the road".
Next week I hope to deal with further offences committed with stationary vehicles and particularly with limited and no-waiting orders and those which restrict loading and unloading.