Q am trying to obtain some statistical
24th September 1971
Page 59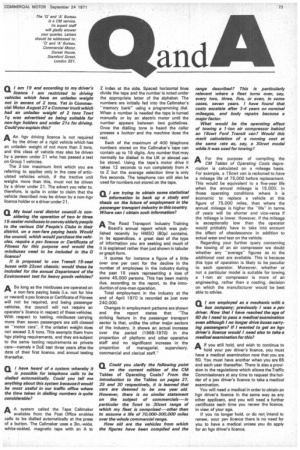 Page 59, 24th September 1971 —
Q am trying to obtain some statistical
Close
information to back up a study and thesis on the future of employment in the passenger transport industry in this country Where can I obtain such information?
AThe Road Transport Industry Training
Board's annual report which was published recently by HMSO (80p) contains, in its appendices, a great deal of the type of information you are seeking and much of it is explained rather than just shown in tabular or graph form.
It quotes for instance a figure of a little over one per cent for the decline in the number of employees in the industry during the past 15 years representing a loss of some 45,000 persons. This has been mainly due, according to the report, to the introduction of one-man operation.
Total employment in the industry at the end of April 1970 is recorded as just over 240,000.
Changes in employment patterns are shown and the report states that "The striking feature in the passenger transport sector is that, unlike the other major sectors of the industry, it shows an actual increase over the period (1968-1970) in the proportion of platform and other operative staff and no significant increase in the proportion of managerial, supervisory, commercial and clerical staff."