I am employed as a mechanic with a bus company;
24th September 1971
Page 59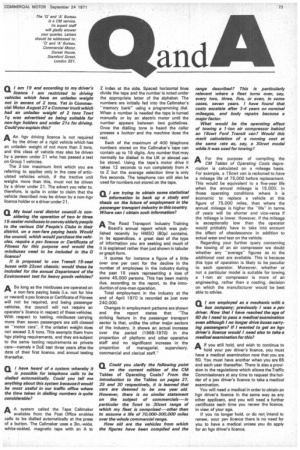 Page 59, 24th September 1971 —
I am employed as a mechanic with a bus company;
Close
previously I was a psv driver. Now that I have reached the age of 60 do I need to pass a medical examination even although I no longer drive buses carrying passengers? If I wanted to get an hgv driver's licence would I need also to take a medical examination for this?
AIf you still hold, and wish to continue to hold your psv driver's licence, you must have a medical examination now that you are 60. You must have another when you are 65 and each year thereafter. There is also a provision in the regulations which allows the Traffic Commissioners at any time to request the holder of a psv driver's licence to take a medical examination.
You will need a medical in order to obtain an hgv driver's licence in the same way as any other applicant, and you will need a further certificate each time you renew the licence, in view of your age.
If you no longer hold, or do not intend to renew, your psv licence there is no need for you to have a medical unless you do apply for an hgv driver's licence.