a My local rural district council ,is con
24th September 1971
Page 59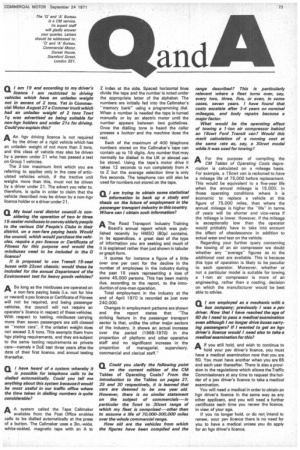 Page 59, 24th September 1971 —
a My local rural district council ,is con
Close
sidering the operation of two br three 15-seater minibuses to convey elderly people to the various Old People's Clubs in their district, on a non-fare paying basis. Would the council, which would purchase the vehicles, require a psv licence or Certificate of Fitness for this purpose and would the minibuses need to be included in the 0 licence?
It is proposed to use Transit 15-seat buses with 23cwt chassis; would these be included for the annual Department of the Environment test for heavy goods vehicles?
ASo long as the minibuses are operated on
a non-fare paying basis (i.e. not for hire or reward) a psv licence or Certificate of Fitness will not be required, and being passenger vehicles, the council will not require an operator's licence in respect of these vehicles, With respect to testing, minibuses carrying more than seven passengers are still classed as "motor cars", if the unladen weight does not exceed 2.5 tons. This exempts them from hgv plating requirements, and they are subject to the same testing requirements as private cars—namely a DoE test three years after the date of their first licence, and annual testing thereafter.