/ have heard of a system whereby it
24th September 1971
Page 59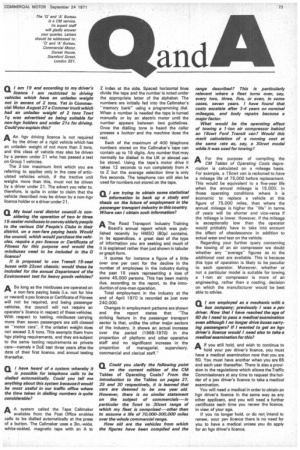 Page 59, 24th September 1971 —
/ have heard of a system whereby it
Close
is possible for telephone calls to be dialled automatically. Could you tell me anything about this system because it would be most useful in our traffic office where the time taken in dialling numbers is quite considerable?
AA system called the Tape Callmaker
available from the Post Office enables calls to be dialled automatically at the press of a button. The Callmaker uses a 3in.-wide, white-coated, magnetic tape with an A to Z index at the side. Spaced horizontal lines divide the tape and the number is noted under the appropriate letter of the alphabet. The numbers are initially fed into the Callmaker's "memory bank" using a programming dial. When a number is needed the tape is turned manually or by an electric motor until the number appears between two guidelines. Once the dialling tone is heard the caller presses a button. and the machine does the rest.
Each of the maximum of 400 telephone numbers stored on the Callmaker's tape can contain up to 18 digits. Any number that may normally be dialled in the UK or abroad can be stored. Using the tape's motor drive it takes 12 seconds to run completely from A to Z but the average selection time is only five seconds. The telephone can still also be used for numbers not stored on the tape.